Crude prices tanked yesterday despite a significant crude draw reported by the DOE. Brent fell $ 1.14 to settle at $ 50.86 /bbl. The more active November future (which will be front month tomorrow) fell by 93 cents to settle at $ 50.73/bbl. WTI fell by 48  cents to settle at $ 45.96 / bbl.
The downward fall in crude is steeply contrasted by a sharp rise in gasoline prices. They have risen by over 20% since the onset of Hurricane Harvey. Even though it was downgraded to a tropical storm yesterday, the devastated it wreaked on Louisiana was incredibly high. The after effects threaten to limit the supplies of gasoline for several weeks going forward. The impact may well have been more were it not for the record levels of runs leading to stocks being close to all time highs for this time of the year.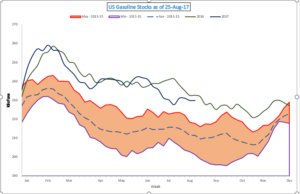 We are spectators from afar, but we believe that the sense of shortage about gasoline may be overdone. Somehow, the huge amount of stocks should definitely become available and thereby make availability less of an issue.
Having said the above, it is worth noting that close to 4 million bpd or about 25% of the US capacity is remains shut down. It is estimated that at least 10% of this capacity may take a long while to restart
DOE Data
As per the report released by the DOE, crude stocks fell by 5.4 Million Barrels last week. Gasoline stocks were barely changed (+32 KB) while distillate stocks rose by 748 kb.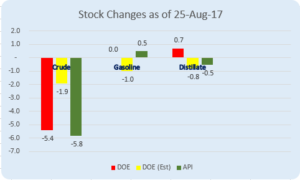 Refinery runs continued to be high at a record 96.6%. These rates would have been arguably precautionary to stock up against possible demand in the wake of Harvey. As such this reflects good planning and will serve to ameliorate the shortage by some amount, no matter how miniscule.
Gasoline demand last week was also healthy at 9.84 mb/d. Gasoline stocks are likely to act as a good buffer against short supply in the weeks to come.
As mentioned even yesterday, this data had less impact on prices as the market will look to next week's data for additional cues.
Naphtha
The Naphtha crack in the prompt continued to rise with yesterday's settle being recorded at $ 93.60 / ton, a 6 and a half month high as supply concerns intensify.
The September Naphtha crack is valued at a strong $ 3.00 /bbl
Gasoline
The gasoline cracks touched $ 15.63 /bbl yesterday, a level not seen since January, 2016 tracking the sharp gains in US prices. Our reported value for September yesterday was revised in the morning itself to $ 14.4 / bbl.
High inventories notwithstanding, market appears to be extremely apprehensive about supply shortages which is clearly reflected in the sharply rising cracks.
The 92 RON crack for September is valued at $ 16.90 /bbl.
Distillates
Distillate cracks are continuing to strengthen as Traders scramble to buy oil products in Asia to ship to the United States and Latin America. Even since Hurricane Harvey hit the US, as many as eight clean tanker vessels are understood to have been provisionally booked  to ship jet fuel and diesel from China, South Korea and Singapore to the U.S. West Coast.
The September gasoil crack is stronger at $ 15.00 /bbl. The regrade has also improved to $0.05 /bbl.
Fuel Oil
Fuel Oil cracks have also risen supported by increased demand for bunker fuel (380 cst). This was primarily attributed to The Maritime and Port Authority's decision to not renew the license of Universal Energy, the third-biggest marine fuel supplier in Singapore by volume last year. With a major supplier barred from operating in the market, its clients are having to seek out alternative suppliers who are encashing on the opportunity by raising their offers.
The 180 cst crack is valued at -$1.30 / bbl for September. The visco spread has also risen to $ 0.85 /bbl.
About this blog
This blog post attempts to give a top level summary of the Singapore market goings on to a person who seeks to obtain a directional sense of the market on a daily basis.
Disclaimer : All the views are the author's personal views. These do not constitute an advice to buy or sell any commodity