Crude Oil prices soared to an 8 week high yesterday spurred by a rally in US gasoline futures. Brent gained 52 cents to settle at $51.49 /bbl. WTI rose by a relatively lesser amount of 29 cents to settle at $49.04 /bbl.
Yesterday, we had mentioned that Brent would be testing the resistance of a downward channel.  However, it comfortably scaled that resistance and now would be targeting the 200 DMA in the $ 51.83 area. We would expect it to be challenged today.
Naphtha
The Naphtha crack strengthened following a spurt in demand.
The August crack is now around 50 cents higher at $0.85/bbl.
Gasoline
Gasoline crack too strengthened arguably on the draw in stocks in the US. This was inspite of a surge of 2.62 million barrels in Singapore stocks taking it to levels close to last year's. The August crack is valued at $ 11.55 /bbl. today.
Distillates
Gasoil cracks too stayed firm notwithstanding a build of 2.67 million in distillate stocks.
The August gasoil crack is steady at $ 13.80 /bbl. The regrade for August is valued at -$0.90 / bbl.
Fuel Oil
Fuel Oil stocks saw a strong build of 1.69 million barrels. However, cracks have not reacted particularly dramatically to this build with the 180 cst August crack is lower at -$1.15 / bbl. The visco spread is at $0.95 /bbl.
ARA stocks too have risen by 84 KT to 1.171 million tons. With stocks in Fujairah on the rise as well, we might see demand is abruptly falling off.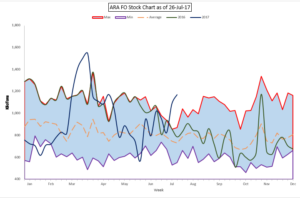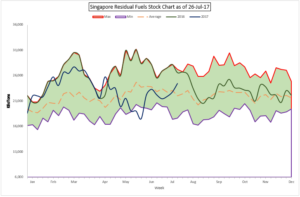 We can see that ARA stocks are at their highest level for this time of the year.
We would recommend hedging some volume at least as the cracks look pretty toppish for now.
About this blog
This blog post attempts to give a top level summary of the Singapore market goings on to a person who seeks to obtain a directional sense of the market on a daily basis.
Disclaimer : All the views are the author's personal views. These do not constitute an advice to buy or sell any commodity