Bullish DOE data propelled Crude Oil past critical technical levels yesterday. Brent gained 77 cents to settle at $50.97 /bbl. while WTI rose by 86 cents to settle at $48.75 /bbl.
The  bullish data has taken Brent prices past the 100 DMA and they are now testing the top of a descending channel.  However, the MACD oscillator is showing some bearish divergences which probably needs to be considered.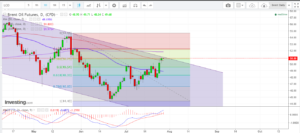 But for now, it is safe to say that the markets are back in bullish mode.
DOE Data
The Department of Energy's weekly report showed a huge draw in crude oil stocks, combined with significant draws in gasoline and distillates as well.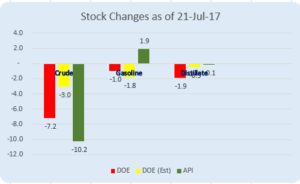 These stock draws come on the back of increased refinery runs and good demand growths in both crude and products. Further, crude production was marginally lower than the previous week suggesting that it may well have plateaued for now.
Crude stocks are below the last year's levels for the first time this year.  While all stock levels are still extremely high, they seem to be moving well directionally for a bullish case.
Naphtha
The Naphtha crack strengthened marginally. However, there does not appear to be any apparent change in the supply demand scenario.
The August crack is now at $0.35/bbl.
Gasoline
The gasoline crack too strengthened marginally. The August crack is valued at $ 11.10 /bbl. today. Market will await stock data out of Singapore before further reaction is seen.
Distillates
Gasoil cracks continue to stay firm largely supported by Winson Oil buying in the Platts window.
The August gasoil crack has jumped to  $ 13.75 /bbl.,  $1/bbl higher from 2 days ago. The regrade as is normal now, has suffered with August being valued at -$0.75 / bbl.
Fuel Oil
Fuel Oil cracks are still weaker today as market expects more cargos to arrive into Singapore. The weakness could also have arisen due to the inability of fuel oil prices to keep up with the rising crude oil prices
The 180 cst August crack is lower at -$1.0 /bbl. The visco spread is at $0.9 /bbl.
About this blog
This blog post attempts to give a top level summary of the Singapore market goings on to a person who seeks to obtain a directional sense of the market on a daily basis.
Disclaimer : All the views are the author's personal views. These do not constitute an advice to buy or sell any commodity