Crude Oil
Oil settled higher on Monday after dollar fluctuations and the restart of some Libyan oil fields caused the market to vacillate, with prices testing lower before rallying. Brent futures settled 42 cents higher at $69.03 /bbl while WTI gained 25 cents to settle at $63.62 /bbl. 
 Earlier in the day, resumption of output from Libya's As-Sarah fields weighed on the market.
However, during the US trading day markets were boosted by by a collapsing US dollar, a phenomenon which makes USD priced commodities cheaper to buy and hold. As the USD strengthened, prices once again returned to morning levels only to spike again as the  Dollar fell again. We present below 15 minute charts for both commodities for the US trading day.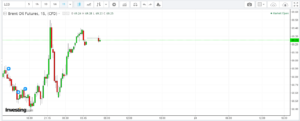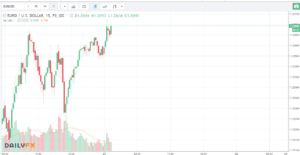 Another factor supporting the market was a statement from Saudi Arabia that the cartels would continue controlling production beyond 2018 as well.
Naphtha
Asia's naphtha crack started the week at a three-session low of $90.28 /MT. Supplies appear ample even as demand for March cargoes have started picking up. Overall, premiums in South Korea, which are currently around $ 6/ MT to Japan quotes have fallen to a three-month low.
The February naphtha crack has once again dipped below the $ 1.00 /bbl level and is valued at $ 0.40 /bbl today. 
Gasoline
The Asian physical gasoline crack continued it's recovery settling at $ 8.07 /bbl. This is the highest level seen in over a week. The market was not lacking in supplies due to high refinery runs not only in Europe and the U.S., but also in the Asian region.
The February crack has improved to $ 11.95 /bbl.
Distillates
Asia's jet fuel crack was seen higher at above $15 a barrel on Monday compared with the previous session on expectations of improved demand. The unusual cold in Japan would also give support to kerosene, which is used for heating in the country. Tokyo had experienced a rare snowstorm on Monday, snarling train services and forcing the cancellation of scores of flights. A cold blast in the U.S. East Coast has also been impacting gasoil trade flows.
However, the paper cracks today are telling a different story with the gasoil crack valued higher and the Jet crack valued lower. The February gasoil crack is valued at $ 14.75 /bbl with the 10 ppm crack at $ 15.60 /bbl. The February regrade has fallen to $ 0.35 /bbl.
Fuel Oil
Asia's fuel oil time spreads and cracks traded higher on Monday as improved sentiment added to market gains that began around the middle of last week. The 380-cst fuel oil Feb/March time spread was trading at parity around the end of Asian trading hours, up from a discount of 25 cents per tonne in the previous session, while the February 180-cst fuel oil crack was at its narrowest discount to Brent crude in almost two weeks.
The February 180 cst crack has however fallen to -$ 5.50 /bbl. The visco spread is unchanged at $ 0.80 / bbl.
About this blog
This blog post attempts to give a top level summary of the Singapore market goings on to a person who seeks to obtain a directional sense of the market on a daily basis.
Disclaimer : All the views are the author's personal views. These do not constitute an advice to buy or sell any commodity