Crude Oil
Oil prices rose to two-week highs on Thursday, boosted by data showing a surprise draw in U.S. crude inventories combined with a drop in the do llar..  Brent futures settled 97 cents higher at $ 66.39 /bbl.  WTI rose by $ 1.09 to settle at $ 62.77.
The markets were quite volatile yesterday with WTI recording a range between $60.75 and $ 63.09 and Brent between $ 64.76 and $ 66.56.
In other news, The Louisiana Offshore Oil Port (LOOP), the largest privately owned crude terminal in the United States, completed the first very large crude carrier (VLCC) crude oil loading operation at its deepwater port. This is likely to make export of US Crude far easier.
Nigeria says its crude output is hovering between 1.7-1.8 mb/d, and that the country is still aiming for 2.5 mb/d by the year end. If it manages to increase its output, it will make the 'rebalancing' even more difficult.

The DOE, like the API, reported a surprise draw of 1.6 million barrels While gasoline built by 300 kb, distillate stocks drew by 2.4 million barrels.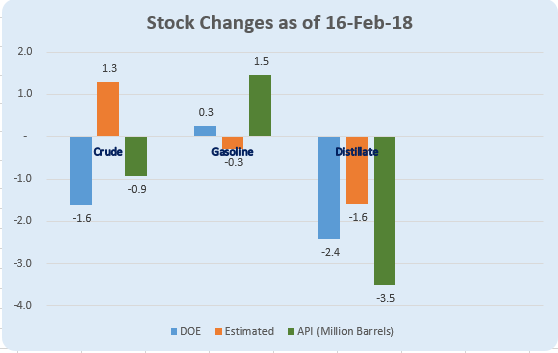 Stocks at Cushing dropped by 2.3 million barrels to around 30 million barrels which are at a 7 year seasonal low. There are more than one reason for this. The first is that since crude is being exported, there is less demand for stocks at Cushing. Secondly, with crude firmly in backwardation, there is no incentive to keep stocks stored.
Refinery runs dropped to 88.1% in keeping with the seasonal trend.
Crude imports fell to just above 7 mb/ d. This is a consequence of disruptions in Canadian imports. Net crude imports for the month were just under 5 mb/ d, the lowest on record. Crude exports of 2.1 mb/ d were also close to the record level of 2.1 mb /d a few months ago.
The material balance suggests that the crude draw is perhaps more than reported while the distillate draw is perhaps less.
 
Naphtha
Asia's naphtha crack slipped to a 1-1/2-week low of $68.78 a tonne, weighed down by high Brent crude prices at above $64 a barrel. But naphtha fundamentals have improved this week for sellers as supplies were not as plentiful as before.
The March crack has moved lower at -$ 0.15 /bbl  
Gasoline
Asia's gasoline crack edged up 3 cents to $7.57 a barrel. Singapore's onshore light distillates, which comprise mostly of gasoline and blending components, fell by 791,000 barrels, to a three-week low of 13.33 million barrels in the week to Feb. 21.
The March 92 Ron gasoline crack has dropped to $ 10.90 /bbl
Distillates
Asia's jet fuel crack rose to more than $16 a barrel on Thursday, its highest in more than 2-1/2 weeks as tight supplies persisted. Cash deals in the Singapore market have been absent for more than a week because of a lack of offers.
Singapore's onshore middle distillates, the bulk of which are diesel jumped 1.4 million barrels to 9.1 million barrels in the week to Feb. 21
The March paper gasoil crack has eased a bit to $ 14.35 /bbl. The 10 ppm crack is at $ 14.95 /bbl.  The March regrade has shot up to $ 2.00 /bbl today. 
We recommend adding to our Hedge of the regrade at this level.
Hedge Recommendations with current values in Red
March Regrade          $ 1.40     ($ 2.0)

March Regrade          $ 2.00     ($ 2.0)

Fuel Oil
Asia's front-month high-sulphur fuel oil crack narrowed its discount to Brent crude on Thursday, edging away from a near-two-week low in the previous session as official data showed Singapore fuel oil inventories at a five-week low. The March 180-cst fuel oil crack to Brent crude was trading at about minus $7.04 a barrel by the end of Asia trading hours, up from a two-week low of minus $7.30 in the previous session.
Singapore weekly onshore fuel oil inventories fell 6 percent to a five-week low of 21.431 million barrels in the week to Feb. 20
The March 180 cst crack nevertheless is lower at -$ 4.10 /bbl. The visco spread has increased to $ 1.10 / bbl.  
About this blog
This blog post attempts to give a top level summary of the Singapore market goings on to a person who seeks to obtain a directional sense of the market on a daily basis.
Disclaimer : All the views are the author's personal views. These do not constitute an advice to buy or sell any commodity