Crude Oil
Oil prices were little changed on Wednesday ahead of the data release by API.  Brent futures settled 17 cents higher at $ 65.42 /bbl.  The WTI April contract, which became the front month today settled 11 cents lower at $ 61.68.
Fed officials were more positive on the US economic outlook in the latest FOMC minutes, citing "substantial underlying economic momentum". A few members noted that they had marked up their near-term forecasts compared to the Dec meeting. The USD jumped while the 10 Year Treasury yield climbed above 2.95% on concerns that the Fed's pace of tightening may turn out quicker than previously expected.
TransCanada's Keystone pipeline averaged 250 kbpd throughput in January, still down about 25% year on year. The pipeline resumed service on 28 November after a leak was detected on 16 November. However, flows have not returned to levels seen last year, in part due to pressure restrictions placed by PHMSA.
API Data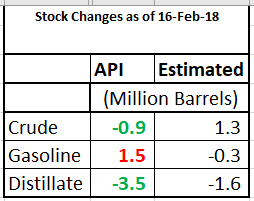 The API reported a surprise draw of 900 kb against expectations of a build of 1.3 million barrels. While gasoline built by 1.5 million barrels, distillate stocks drew by 3.5 million barrels significantly more than expected.
Stocks at Cushing were reported to have dropped by 2.6 million barrels. If confirmed by the DOE data expected later today, this will be the 10th consecutive drop in stocks at Cushing
Naphtha
Asia's naphtha crack recovered marginally to $69.55 /MT but spot prices in South Korea have flipped to premiums after a couple of weeks. Despite the rise, the current level reflects weak fundamentals as it is 26.5 percent lower from a month ago.
The March crack has flipped to negative territory and is now at -$ 1.10 /bbl  
Gasoline
Asia's gasoline crack was at a three-session low of $ 7.54 /bbl. Light distillates inventories held at the Fujairah Oil Industry Zone were at a two-week low of 8.2 million barrels in the week to Feb. 19.
The March 92 Ron gasoline crack is marginally lower at $ 11.25 /bbl
Distillates
Asia's jet fuel crack held above $15 a barrel on Wednesday versus about $12 from a year ago, making it the most profitable refined oil product for refiners as supplies remain tight.
Distillate stocks at Fujairah were at a 3 week high of 2.5 million barrels in the week ended 19 Feb.
The March paper gasoil crack has increased further to $ 14.50 /bbl. The 10 ppm crack is at $ 15.15 /bbl.  The March regrade is higher at $ 1.50 /bbl today. 
Hedge Recommendations with current values in Red
March Regrade          $ 1.40     ($ 1.50)

Fuel Oil
Asia's front-month high-sulphur fuel oil crack widened its discount to Brent crude on Wednesday, slipping to a near two-week low as ample near-term supplies weighed on market sentiment. The March 180-cst fuel oil crack to Brent was trading at about minus $7.30 a barrel, its widest discount since Feb. 8. This came despite weaker oil prices on Wednesday.
The March 180 cst crack is higher at -$ 4.10 /bbl. The visco spread continues to stay $ 1.00 / bbl.  
Hedge Recommendations with current values in Red
March          -$ 3.00     (-$ 4.10)
2Q2018        -$ 2.80     (-$ 3.95)
3Q2018        -$ 2.40     (-$ 3.65)
4Q2018        -$ 2.05     (-$ 3.20)
1Q 2019        -$ 2.35     (-$ 3.25)
We will take these hedges off our radar.
About this blog
This blog post attempts to give a top level summary of the Singapore market goings on to a person who seeks to obtain a directional sense of the market on a daily basis.
Disclaimer : All the views are the author's personal views. These do not constitute an advice to buy or sell any commodity