Crude Oil
Crude prices resumed their upward move yesterday. Brent settled 35 cents higher at $62.57 /bbl. WTI  gained 41 cents to settle at $56.50 /bbl.
The gain has been attributed to anticipation that the production cuts put in place by the OPEC / non OPEC cartel will be extended post March 2018. Prices have also spiked up a little this morning after the release of API data.
The Iraqi Kurdish government has requested US to appoint a special envoy to mediate the dispute between Baghdad and the Kurdistan regional government. Flows from the Kurdistan region to Ceyhan averaged 254kbd as of Monday, with 260k barrels available for loading according to port agents.
Nymex will list WTI v. Dubai futures contracts for trading on the CME platform effective 17 Dec, according to CME group. 
API Data

The API reported the following changes in stock yesterday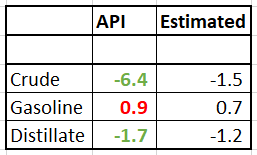 While both crude and distillate changes were more bullish than expected, Gasoline was mildly bearish. However, given that gasoline traditionally reduces in importance at this time of the year, the bearishness can be discounted.
As usual, the market will be looking at the DOE data for confirmation.
Naphtha
While the physical crack settled yesterday at a three-session low of $122.90 /MT, fundamentals remain bullish in the wake of strong demand and limited supplies. This is evidenced by the rising premiums paid by buyers to secure cargoes. For example,  South Korea's YNCC has paid a premium of about $12 /MT for five cargoes scheduled for first-half January 2018 arrival at Yeosu. This is the highest premium YNCC has paid since March 2015.
The December crack is up at $ 3.90 /bbl.
Gasoline
Asia's physical gasoline crack settled at a four-session high of $10.42 /bbl yesterday amidst an active Platts Trading Window which saw four gasoline cash deals getting concluded. 
The December 92 Ron paper crack has jumped $ 11.70 /bbl.
Distillates
The distillate  cracks continue to stay supported on the back of fresh spot demand from Sri Lanka and Vietnam.
The December 0.05% Gasoil crack has further strenghtened $13.75 /bbl. The regrade has slipped to $ 0.65 /bbl.
Fuel Oil
The Asian Fuel Oil market was very active yesterday with four cargo of 380-cst grade totalling 100,000 MT changing hands yesterday. This was the highest volume traded in the Platts Window since November 6.
The December 180 cst crack is stronger at -2.25 /bbl. The visco spread has eased out a bit to $ 0.65 /bbl.
About this blog
This blog post attempts to give a top level summary of the Singapore market goings on to a person who seeks to obtain a directional sense of the market on a daily basis.
Disclaimer : All the views are the author's personal views. These do not constitute an advice to buy or sell any commodity