Crude Oil
Crude prices moved up notwithstanding data from the DOE that could be construed as distinctly bearish. Brent settled 75 cents higher at $63.32 /bbl. The Jan-18 WTI future, which became first month today gained $1.19 to settle at $58.02 /bbl., the highest level seen in two years
The rise is prices has been in reaction to the news that the 590 kbd, Keystone pipeline from Canada to the US could take far longer to restart than previously expected. This has also resulted in WTI crude prices flipping into backwardation, a phenomenon not seen since Dec. 19 2014. This medium term shut down appears to have had a far greater impact than we would expect. If we can have bearish DOE data AFTER the pipeline has been shut down, what would have happened had it been running full tilt?

In other news, exports from the Kurdistan region to Ceyhan have risen sharply to 360kbd, although this is expected to fluctuate between 240-360kbd over the next few days. 
DOE Data

The DOE reported a draw of 1.9 MB in crude, nearly flat (+44 kb) gasoline and a build of 269 kb in distillate stocks yesterday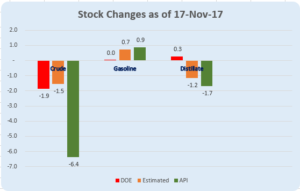 The primary reaction to this would be bearish, particularly as the draw in crude was far less than the 6.4 million barrels reported by the API. In our opinion, if the Keystone pipeline were not shut down, the data would appear far more bearish.
Having said the above, gasoline showed an extremely healthy growth in demand at nearly 9.6 mb/d. Diesel demand, though, was virtually flat.

Material Balance analysis would suggest that crude should have actually drawn. whereas both Gasoline and Distillates should have shown a stronger build
Naphtha
The Asian naphtha crack recovered to a one week high of $125.65 /MT on Wednesday. This rise in physical crack was aided by fresh demand coming from  South Korean firms Lotte Chemical and SK Energy.
The December crack is up at $ 4.10 /bbl.
Gasoline
Asia's physical gasoline crack slipped to $10.27 /bbl yesterday even as the Platts Trading Window remained active with three gasoline cash deals getting concluded.
The December 92 Ron paper crack has eased to $ 11.50 /bbl.
Distillates
Robust trading was seen in the window yesterday with Winson oil once more commencing heavy buying and purchasing 1.4 million barrels out of the 1.55 million barrels traded yesterday.
The December 0.05% Gasoil crack has eased to $13.45 /bbl. The regrade has improved to $ 0.70 /bbl.
Fuel Oil
Asian Fuel Oil cracks weakened yesterday as market players expressed wariness about additional supplies coming out of Russian refineries emerging from major turn arounds.
The December 180 cst crack is valued -2.60 /bbl. The visco spread has eased out more to $ 0.75 /bbl.
About this blog
This blog post attempts to give a top level summary of the Singapore market goings on to a person who seeks to obtain a directional sense of the market on a daily basis.
Disclaimer : All the views are the author's personal views. These do not constitute an advice to buy or sell any commodity