Crude Oil
Crude prices continued to scale greater highs in the absence of any fresh news. Brent settled 34 cents higher at $64.90 /bbl while WTI settled 27 cents higher at $58.36 /bbl. 
In other news,  Ineos says the Forties pipeline is expected to restart in early January after repairs over Christmas. The company will allow a small number of customers to send oil and gas over the pipe
lines before carefully ramping flows back to a normal rate by early next year.
Saudi Arabia's King Salman and Russian President Putin held a telephone conversation on Thursday and agreed on the need for continued cooperation to maintain energy market stability. The two parties also discussed the recent Yemen missile attack on Riyadh, which Putin condemned, and stressed the need to achieve a political settlement in Syria.
Naphtha
The physical Asian naphtha crack continued to regain strength, settling yesterday at $116.35 /MT. Demand continues to remain strong as alternate feedstocks are either not available or too expensive.
The January Naphtha crack is higher at $ 3.55 /bbl
Gasoline
The physical Asian gasoline crack hit a 9- 1/2 month low to settle at $8.28 /bbl.  Singapore's onshore light distillates stocks, edged up 1.1 percent to 13.8 million barrels in the week to Dec. 20, official data showed.  
The 92 RON January crack has slipped further to $ 11.50 /bbl.
Distillates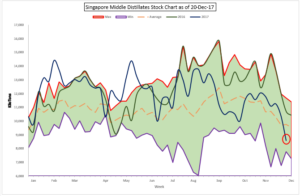 Asia's front-month 500ppm gasoil margin climbed to its highest since Sept. 11 on Thursday following a sharp drop in Singapore onshore middle distillate inventories. Singapore onshore gasoil and jet fuel stocks plummeted to a three-year low of 8.585 million barrels in the week to Dec. 20, down 17 percent or 1.792 million barrels from the previous week. This last time they were lower than this dates back to December 2014, when they were at 8.563 million barrels.
The January gasoil crack is higher at $ 14.30 / bbl. today.  The regrade for now is unchanged at $ 0.75 /bbl
Fuel Oil
The front month time spread for the 180 cSt grade flipped into contango yesterday as demand for the product seems to have eased out. Singapore weekly onshore fuel oil inventories fell 2.5 percent, or 583,000 barrels (about 87,000 tonnes), to an 11-week low of 22.631 million barrels (3.38 million tonnes) in the week ended Dec. 20. 
The 180 cst crack has fallen to -$ 3.40 /bbl with the visco spread unchanged at $ 0.65 /bbl. 
A

bout this blog
This blog post attempts to give a top level summary of the Singapore market goings on to a person who seeks to obtain a directional sense of the market on a daily basis.
Disclaimer : All the views are the author's personal views. These do not constitute an advice to buy or sell any commodity