Crude Oil
Crude prices rose to make even higher heghs over a long weekend as markets struggled to evaluate the impact of many potentially bullish factors. Brent settled 35 cents higher at $65.25 /bbl, its highest close this year. WTI settled 11 cents higher at $58.47 /bbl. 
With a long weekend coming up, the approach appeared to be "Be Long or Be Wrong". Over the weekend, the market has seen both bullish and bearish factors coming up. On the bullish side, the Baker Hughes rig count stayed stationary at 748 as compared to last week, a fact that some could consider bullish.
On the bearish side, repair work at the Forties pipeline is now mechanically complete. Ineos says it is now sending oil and gas through the pipeline at low rates and will begin to start recommissioning the Kinneil facility. The company continues to expect full restart by early in 2018.
Also, Money managers have reduced their long bets on Crude Oil and Gasoline to their lowest levels in four and eight weeks respectively. Distillate futures are at their highest level in three weeks.
Technical Analysis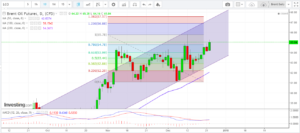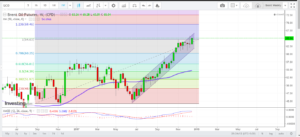 While the Daily chart shows strong bullish action, the Weekly chart is not that bullish. In the daily charts the MACD has effected a crossover from below, a sign of clear bullish sentiments. The weekly chart though shows some bearish divergence insofar as the MACD seems to be converging. The need to proceed with caution is the winning mantra for now.
Supports lie at $ 64.78, $ 63.99 and $ 63.44 /bbl. Resistances lie at $ 65.78, $ 66.88 abd $ 67.57 /bbl.
Naphtha
Not much news on the product markets today with the early close on Friday. The January Naphtha crack is valued at $ 3.65 /bbl, marginally higher than Friday.
Gasoline
The 92 RON January crack continues to slip to $ 11.45 /bbl.
Distillates
Distillate cracks also appear to be lower notwithstanding the strong draw in Singapore stocks on Friday.
The January gasoil crack is a bit lower at $ 14.15 / bbl. today.  The regrade is lower at $ 0.65 /bbl
Fuel Oil
While the front month time spread for the 180 cSt grade is valued at flat today, further forward there exists a contango which is not at all encouraging for the product. ARA fuel oil inventories rose 7.7%, or 98 Kb in the week ended 21st December. The 180 cst crack however, is steady -$ 3.40 /bbl with the visco spread unchanged at $ 0.65 /bbl. 
About this blog
This blog post attempts to give a top level summary of the Singapore market goings on to a person who seeks to obtain a directional sense of the market on a daily basis.
Disclaimer : All the views are the author's personal views. These do not constitute an advice to buy or sell any commodity