Crude Oil
Crude prices continued to climb and closed higher yesterday supported by seemingly bullish DOE weekly inventory data and the continued outage of the North Sea Forties pipeline system. Brent settled 76 cents higher at $64.56 /bbl while WTI settled 53 cents higher at $58.09 /bbl. 
WTI has been finding strength on the back of falling crude inventories in the U.S. which at 436.5 million bbls, are now at their lowest since October 2015. As regards Brent, continued outage of the Forties pipeline which carries around 450,000 bbls per day of Forties crude to Britain, along with a third of the UK's total offshore natural gas output, is helping to prop up prices. As per the latest available information, Ineos, the Operator of this pipeline, is awaiting custom parts to fix Forties oil pipeline. 
 DOE Data
U.S. commercial crude oil inventories (excluding those in the Strategic Petroleum Reserve) decreased by 6.5 million bbls from the previous week. This was not only more than the market expected decrease of about 3.8 million bbls but also more than the drop of 5.2 million bbls reported by API yesterday. On the Products sides, total Motor Gasoline inventories increased by 1.2 million bbls last week against an expected build of 1.9 million bbls while Distillate fuel inventories increased by 0.8 million bbls last week against an expected drop of 0.9 million bbls.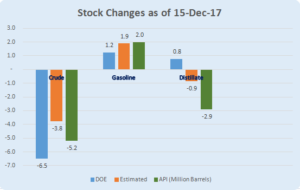 U.S. crude oil refinery inputs averaged about 17.1 million bbls per day during the week ending 15 December 2017, which is 111,000 bbls per day more than the previous week's average. Refineries operated at 94.1% of their operable capacity last week, the highest since the summer, and above average for December. Total products supplied over the last four-week period averaged 20.3 million bbls per day, up by 2.6% from the same period last year. Over the last four weeks, motor gasoline product supplied averaged over 9.0 million bbls per day, up by 0.4% from the same period last year. Distillate fuel product supplied averaged 4.0 million bbls per day over the last four weeks, down by 1.2% from the same period last year.
Naphtha
The physical Asian naphtha crack rose for the second day to reach $115.50 /MT as several buyers entered the market looking to secure February naphtha cargoes. Among those seen the market are Taiwan's Formosa, South Korea's GS Caltex, SK Energy, Lotte Chemical, KPIC and Japan's Idemitsu and Mitsui Chemicals. 
The January Naphtha crack has however remained unchanged at $ 3.40 /bbl
Gasoline
In contrast to the naphtha crack, the physical Asian gasoline crack fell 30 cents from the previous day to settle at $9.05 /bbl, the lowest since 5 July 5 2017.  
The 92 RON January crack has slipped to $ 11.80 /bbl.
Distillates
Distillate cracks have weakened slightly as traders are turning bearish on Jet Fuel in particular amid expectation of slow demand and increased production from refiners in China and India.
The January gasoil crack is slightly lower at $ 13.90 / bbl. today.  The regrade for now is unchanged at $ 0.75 /bbl
Fuel Oil
Fuel oil cracks have lost ground amidst expectations of surplus near-term supplies. Total fuel oil flows into East Asia for this month are expected to close at a 10-month high of about 7 million MT, above November's 6.2-6.3 million MT 
The 180 cst crack has fallen to -$ 3.20 /bbl with the visco spread unchanged at $ 0.65 /bbl. 
A

bout this blog
This blog post attempts to give a top level summary of the Singapore market goings on to a person who seeks to obtain a directional sense of the market on a daily basis.
Disclaimer : All the views are the author's personal views. These do not constitute an advice to buy or sell any commodity