Crude Oil
The rising streak in Crude prices was finally arrested after 4 days. Brent closed 92 cents higher at $57.23 /bbl while WTI gained 75 cents to settle at $ 51.29 /bbl.
We had mentioned in yesterday's issue of the Oil Price Digest that in our opinion, the stock data was more bearish than appeared up front. That being the case, prices should not be sustainable at those levels on the grounds of geopolitical risk premium alone.
The market seemed to have thought similarly and taken profits on a good run up over the past few days. Currently, we still see Brent supported at $ 57.00, $ 56.00 and $ 55.00 /bbl. and, given the mood of the market, any drops are going to take place slowly. Simultaneously, any bullish news is likely to spook the market upwards.
Naphtha
Paper naphtha cracks have strengthened amid falling crude prices on the one hand and firming demand for physical cargoes on the other hand. Among the buyers seeking first-half December delivery cargoes are Taiwan's Formosa Petrochemical, Chinese Unipec and South Korea's LG Chem.
The paper cracks for November is higher at $ 2.95 /bbl.
Gasoline
Paper gasoline crack has remained unchanged supported by falling inventories in the key trading hub of Singapore. Singapore's light distillates stocks, comprising mostly gasoline and blendstock for petrol, fell 3.4 % to reach a three-week low of 11.6 million bbl in the week to October 18. The latest weekly level was 9.5 % lower than a year ago.
The November 92 Ron paper crack is unchanged at $ 11.00 /bbl.
Distillates
Distillate cracks are valued lower even though the weekly Singapore onshore middle distillate inventories fell to their lowest since the week to January 11, down 5 %, from a week earlier to a total of 9.987 million bbls in the week to October 18.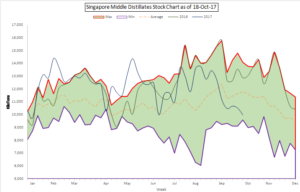 As one can see from the chart, the current stock levels are well below 2016 and 5 year average stock levels. Given that distillate demand in Asia typically strengthens post the monsoon season, a combination of low inventories and rising demand should help prop up cracks. However, in this month of October thus far, the distillate cracks have been lackluster.
The November gasoil crack is valued lower at $ 12.30 /bbl.  The regrade is valued at $ 0.20 /bbl.
Fuel Oil
Fuel oil cracks remain unchanged even as the short term outlook remains bearish due to muted interest and high inventories across key trading hubs. Singapore's onshore fuel oil inventories rose to a total of 3.634 million MT in the week to October 18, up 2.5 % from the previous week.
The November 180 cst crack is valued unchanged at -$2.40 / bbl. The visco spread is unchanged at $ 0.75 /bbl.
About this blog
This blog post attempts to give a top level summary of the Singapore market goings on to a person who seeks to obtain a directional sense of the market on a daily basis.
Disclaimer : All the views are the author's personal views. These do not constitute an advice to buy or sell any commodity