Crude Oil
Oil prices settled higher in see-saw trade on Friday, as political tensions in the Kurdistan region continued to disrupt crude supplies. Brent closed 52 cents higher at $57.75 /bbl while the expiring November WTI future gained 18 cents to close at $ 51.47 /bbl. The December WTI future, which becomes front month today, gained 33 cents to settle at $ 51.84 /bbl.
Fueling the bullish sentiment this week will be the news that the number of rigs in active service fell by 7 to 736, the lowest level since June. This will be countered by weak demand data. Also, Shell has reportedly lifted the latest force majeure on Bonny Light caused by a leak in a pipeline to the export terminal.
Technical Analysis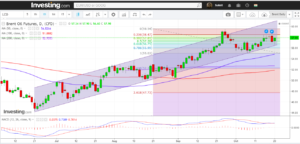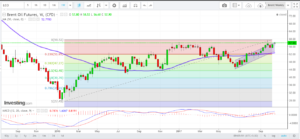 The daily and weekly charts show a time for caution while still maintaining a bullish character. On the daily charts the MACD has crossed over from the negative side to the positive side over the week, but it continues to flirt with the zero level. On the weekly chart, the MACD is showing a bearish divergence. While both charts show prices comfortably in the rising channel, prices are unable to breach the top of the channel in the weekly chart signalling a cap at least for the coming week.
Prices appear supported at $57.28, $ 56.75 and $ 56.00 /bbl.  Resistances are $ 58.00, $ 58.45 and $ 59.21 / bbl.
Naphtha
The demand for Naphtha continues to be strong with Friday's physical crack settling at $ 101.98 / MT. India's domestic demand for Naphtha in September of 1.16 million tonnes was the highest seen this year and up 6.4% from August.
The paper cracks for November is higher at $ 3.40 /bbl.
Gasoline
The Physical Gasoline crack settled at $9.93 /bbl, its lowest settle in more than a week.
With the gasoline season coming to an end now, stocks in ARA are at their highest levels for this time of the year. While stocks in Singapore are still low (below the 5 year average), US stocks too are at extremely high levels. This does not augur particularly well for gasoline cracks.
The November 92 Ron paper crack is higher at $ 11.20 /bbl.
Distillates
In Friday's OPD, we had mentioned that distillate inventories in Singapore fell to their lowest level this year since the week to January 11. If we juxtapose these stock levels with US and ARA levels, we can see that inventoris in all regions are below 5 year average levels with the levels being particularly dire in Asia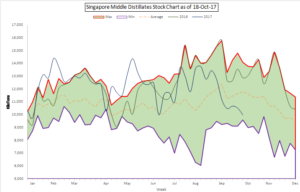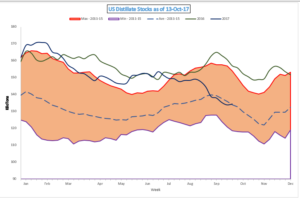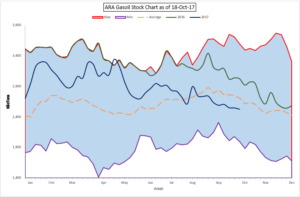 With winter approaching, a good winter could create a severe drop in stocks. Buying gasoil cracks for Nov and Dec 17 may not be a bad trade to put on.
The November gasoil crack is valued significantly (60 cents) higher at $ 12.90 /bbl today.  The regrade is valued at $ 0.35 /bbl.
Fuel Oil
The 380 cSt time spread for November December slipped to a one week low of $ 1.50 / MT as inventory levels across key storage hubs stay elevated. While FO stocks in the ARA region dipped to a one month low, they remain nearly twice as high as last year's levels.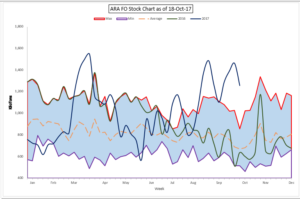 Fuel oil cracks remain unchanged even as the short term outlook remains bearish due to muted interest and high inventories across key trading hubs. Singapore's onshore fuel oil inventories rose to a total of 3.634 million MT in the week to October 18, up 2.5 % from the previous week.
The November 180 cst crack is valued higher at -$2.20 / bbl. The visco spread is unchanged at $ 0.75 /bbl.
About this blog
This blog post attempts to give a top level summary of the Singapore market goings on to a person who seeks to obtain a directional sense of the market on a daily basis.
Disclaimer : All the views are the author's personal views. These do not constitute an advice to buy or sell any commodity