Crude Oil
Oil prices managed to close higher on Wednesday after choppy trade earlier in the day due to mixed DOE weekly inventory data which saw a higher than anticipated build in U.S. crude inventories being offset by large distillate and gasoline inventory draws. Both Brent and WTI settled 25 cents higher at $ 64.89 /bbl and $ 60.96 /bbl respectively.
Exerting pressure on crude prices was the latest announcement by the OPEC cartel of an increase in its forecasts for non-OPEC supply growth in 2018 to 1.66 million bbls/day (versus 1.4 million bbls/day previously). Notably, OPEC's estimates now suggests that oil supply growth will outpace demand growth this year.

The weekly report of stocks and supplies gave out mixed signals. While crude stocks built considerably, product stocks drew despite an increase in refinery runs from 88% to 90%. Stocks at Cushing built for the first time in 11 weeks. The total volume of supplied products (implied demand) rose by 20.9 million barrels week on week, a 7 year seasonal high!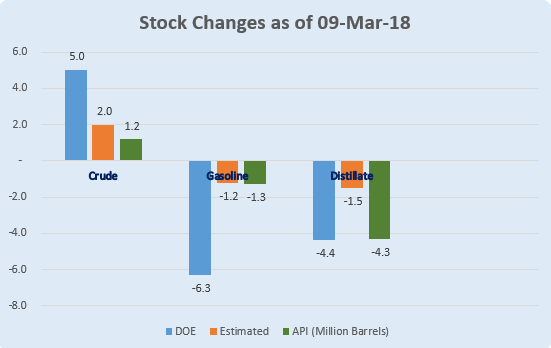 The draw in diesel stocks can largely be explained by a huge increase in exports as we will show in our material balance statement below. Gasoline demand increased to 9.6 million barrels per day, the highest for this time of the year for the past 10 years at least. This could be a natural result of rapidly growing economy as other US data seems to be showing.
Notwithstanding the above, the material balance analysis seems to throw up a lot of questions.

According to the data provided, crude input into production grew by 432 kbpd. However, total products actually declined by around 200 kbpd. This anomaly is difficult to understand. Similarly, gasoline figures seem to be more or less balanced which makes a draw of 6.2 million barrels puzzling. Last, but not least, crude utilization would indicate a huge draw whereas what is reported is a huge build.
Naphtha
Asia's physical naphtha crack climbed almost 12% to settle at $ 84.03 /MT (the highest since March 5) on Wednesday as demand was seen to be picking up with buyers returning to the market. South Korea's Lotte Chemical and Taiwan's Formosa were among those seeking second half April cargoes.
The March crack has jumped to $ 1.25 /bbl. The April crack has also risen sharply to $ 0.50 /bbl 
Gasoline
Asia's physical gasoline crack resumed its downward trend on Wednesday (after a temporary recovery earlier on Tuesday) falling 3.2 % to $ 7.37 /bbl, the lowest since February 23.  Surplus supplies and lackluster demand are keeping prices under pressure.
The March 92 Ron gasoline crack has however improved further to $ 11.70 /bbl. The April crack is higher as well at $ 11.75 /bbl 
Distillates
The Asian cash premium for the 10 ppm gasoil grade extended gains for a seventh straight day, edging up 4 cents to 26 cents a barrel to Singapore benchmark price on Wednesday. Between March 1 and 14, a total of more than 6.3 million bbls of gasoil changed hands, of which trading company Winson sold more than 40 % of the traded volumes.
In other news, middle distillates inventories in the Fujairah Oil Industry Zone (FOIZ) fell by a considerable 25 % from a week ago to a seven-week low of 1.919 million bbls in the week ended March 12.
The March paper gasoil crack has risen to $ 14.95 /bbl. The 10 ppm crack is at $ 15.50 /bbl.  The March regrade is steady at $ 0.95 /bbl. 
The April gasoil crack is at $ 14.30 /bbl with the 10 ppm crack at $ 14.95 /bbl.  The regrade is at $ 0.05 /bbl.  
Fuel Oil
Asia's prompt-month viscosity spread extended its losses on Wednesday slipping further away from Monday's 10-month high. The March viscosity spread, the price differential between March 180-cst and 380-cst fuel oil swaps, settled at $7.75 /MT on Wednesday, down from $8.25 /MT on Tuesday and a multi-month high of $8.50 /MT on Monday. 
The March 180 cst crack has weakened further to -$ 3.70 /bbl. The visco spread is steady at $ 1.25 / bbl. 
The April 180 cst crack is -$ 4.05 / bbl with the visco spread at  $ 1.25 /bbl
Hedge Recommendations
Hedge recommendations are essentially made for refiners. These are not trading positions as such. The rationale of these positions is to lock in extraordinary levels for the refiner.
Today's status of active recommendations is below

About this blog
This blog post attempts to give a top level summary of the Singapore market goings on to a person who seeks to obtain a directional sense of the market on a daily basis.
Disclaimer : All the views are the author's personal views. These do not constitute an advice to buy or sell any commodity