Crude Oil
Oil fell as equities fell, erasing earlier gains driven in part by the firing of U.S. Secretary of State Rex Tillerson. Brent futures dropped 31 cents to settle at $ 64.64 /bbl.  WTI fell 65 cents to settle at $ 60.71 /bbl.
U.S. shale output will climb by 131,000 barrels per day next month to hit 6.954 million barrels per day according to a new report by the Energy Information Administration. The Permian Basin, in New Mexico and Texas, will see the biggest climb, the data shows. The basin, which has developed itself as the ground zero of the next shale boom, will see an 80,000-bpd jump in production. Texas' Eagle Ford basin, as well North Dakota's Bakken and Nebraska's Niobrara basins will also see sizeable jumps, totaling 47,000 barrels per day.
The front contract of WTI has flipped into contango yesterday, the first tell tale sign of weakness in demand.
Libyan workers have ended their strike at the Zawiya oil terminal and will allow vessels to dock at the port again. The strike had no impact on upstream production. Libya would have had to scale back production if the strike had carried on a few more days due to limited storage facilities at the terminal.
Rex Tillerson's proposed replacement, the CIA Director Mike Pompeo is known to be a hawk on Iran sanctions. The move could therefore lead to some turbulence in the markets.
API data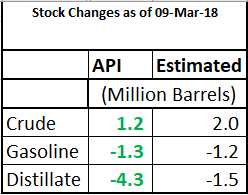 The API released a mildly bullish report which suggested that crude stocks had built less than expected while product stocks had drawn more than expected.
Crude stocks at Cushing continued to fall, this week by 156 KB.
While crude imports increased by 100 kbpd to 7.9 million bpd, refinery runs also increased by 85 kbpd.
The market will look to the DOE for confirmation of this data as usual.
Naphtha
Asia's naphtha crack hit a two-week low of $75.20/ MT on Monday with little fresh news to move traders either way.
The March crack, though, has climbed up to $ 0.70 /bbl. The April crack has flipped back into positive territory at $ 0.05 /bbl 
Gasoline
Asia's gasoline crack recovered after eight straight sessions of losses to $7.61 a barrel. A fire at Taiwan's CPC 350 kbpd Taoyuan refinery over the weekend is expected to disrupt gasoline production. The intensity of the impact on gasoline would, however, depend on how fast CPC is able to restore normal runs. At present, the impact is not extensive due to ample supplies.
The March 92 Ron gasoline crack has nevertheless improved to $ 11.25 /bbl. The April crack is higher as well at $ 11.35 /bbl 
Distillates
Asia's cash premium for the 10 ppm gasoil grade edged up 2 cents to 22 cents to Singapore benchmark price on Tuesday, the highest since Feb. 5, supported by buoyant cash deals. Trader Winson Oil continued its spree and sold one of four gasoil cargoes in the Singapore cash market, making it the dominant seller since early March. Between March 1 and 13, a total of more than 5.7 million barrels of gasoil changed hands, of which Winson sold more than 40 percent of the traded volumes.
The March paper gasoil crack has risen to $ 14.85 /bbl. The 10 ppm crack is at $ 15.45 /bbl.  The March regrade is steady at $ 0.95 /bbl. 
The April gasoil crack is at $ 14.25 /bbl with the 10 ppm crack at $ 14.90 /bbl.  The regrade is at $ 0.10 /bbl.  
Fuel Oil
Asia's prompt-month viscosity spread slipped on Tuesday, edging away from a 10-month high hit in the previous session. Tighter blendstock supplies and increased prompt demand from South Korean power producers have contributed to the recent gains in the viscosity spread.The March viscosity spread, the price differential between March 180-cst and 380-cst fuel oil swaps, settled at $8.25 a tonne on Tuesday, down from a multi-month high of $8.50 a tonne on Monday.
The March 180 cst crack has weakened slightly to -$ 3.40 /bbl. The visco spread is at $ 1.25 / bbl. 
The April 180 cst crack is -$ 3.75 / bbl with the visco spread at  $ 1.25 /bbl
Hedge Recommendations
Hedge recommendations are essentially made for refiners. These are not trading positions as such. The rationale of these positions is to lock in extraordinary levels for the refiner.
Today's status of active recommendations is below

About this blog
This blog post attempts to give a top level summary of the Singapore market goings on to a person who seeks to obtain a directional sense of the market on a daily basis.
Disclaimer : All the views are the author's personal views. These do not constitute an advice to buy or sell any commodity