Crude Oil
Crude oil prices continued its climb to settle higher on Wednesday even as the weekly U.S. Inventory data released yesterday was a mixed bag with crude oil inventories declining and product inventories rising. While WTI settled 61 cents higher at $ 63.57 /bbl ,its highest settlement since December 2014, Brent settled 38 cents higher at $ 69.20 /bbl after touching a session high of $ 69.37 /bbl.
While market participants are increasingly growing wary of this bull run in crude prices, the market for now continues to hold strong. Contributing to this bullishness is a weakening dollar which make oil which is denominated in USD cheaper and hence more attractive to buyers. 
Going forward, increasing U.S. crude oil production which is expected to hit 10 million bbls/day next month, behind only Russia and Saudi Arabia is expected to provide a cap on prices and halt this recent rally. 
DOE Data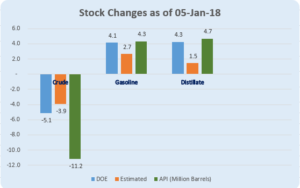 The DOE has corroborated the massive build in products. However, the draw in crude reported by the DOE appears to be much smaller and far more reasonable.
Gasoline stocks are above last years stocks and are at their highest levels for this time of the year. Gasoline demand rebounded by a surprising 164 kb/d in the wake of the cold weather spell that was supposed to have put a brake on driving literally.
Distillate stocks too reported another strong build and with the builds of the last two weeks are not comfortably over the 5 year average. However, the increase in distillate demand, reported at 67 kb/d is quite disappointing in the wake of the reports of the terrible cold spell.
Refinery run rates have finally dropped off a bit from 95.7 to 93.6. However, they are significantly higher than the 93.6% levels at the same time last year.
A feature that is supportive to the markets this week is the surprising drop in US crude production by 285 kb /d. This will give some heart to the bulls about the possibility that this rise in production is unsustainable.

In our material balance section, we can see that all the numbers reported cannot be explained by the components of inventory changes. Indeed, as per these figures crude stocks should have built and product stocks should have drawn.
Naphtha
After being valued at an average of $3.80 /bbl in December last month, the paper naptha crack continues to struggle as high inventories and increasing supplies weigh on the market. A few buyers were seen for second-half February delivery cargoes but overall the spot market appears to be muted at this time. 
The balance January naphtha crack has collapsed to $ 0.55 /bbl. This is significantly lower than the average month to date valuation of $ 1.95 /bbl for January. 
Gasoline
The Asian physical gasoline crack extended gains for the third straight day settling at $ 8.08 /bbl, the highest level since December 26. Strong demand coming in from the Middle East has helped lifted sentiment in Asia.
The balance January crack is marginally higher at $ 10.80 /bbl.
Distillates
The Platts Trading Window was extremely active on Wednesday with a total of 1.17 million bbl of 500 ppm gasoil changing hands, making it the highest volume traded since November 29.
While high inventories in key hubs of Fujairah, Singapore and the U.S. are expected to cap prices, the cracks are valued slightly higher today.
The balance January crack has increased to  $ 13.75 / bbl.  The 10 ppm Gasoil crack is also valued higher at $ 15.05 /bbl. The regrade has improved to $ 0.70 /bbl
Fuel Oil
Fuel oil cracks which have been continuously valued lower since December last month, falling from a valuation of -$2.80/bbl on 20 December to -$ 6.20 /bbl yesterday, continues to struggle amid sluggish demands, high inventories across key trading hubs and increasing supplies.  
The balance January 180 cst crack has now fallen to -$ 6.60 /bbl today. The visco spread is valued unchanged at $ 0.35 /bbl.
About this blog
This blog post attempts to give a top level summary of the Singapore market goings on to a person who seeks to obtain a directional sense of the market on a daily basis.
Disclaimer : All the views are the author's personal views. These do not constitute an advice to buy or sell any commodity