Crude Oil
Crude oil prices started the day on an upward trend and briefly touched $ 70 / bbl (Brent) before a huge sell off to end the day nearly unchanged. Brent settled 6 cents higher at $ 69.26 /bbl. WTI settled 23 cents higher at $ 63.80.
It could be that yesterday's rally was in anticipation of a negative decision by the Trump administration on Iran.
Oil prices are expected to remain close to current levels, averaging around $60 to $70 per barrel through the end of the decade, according to the annual survey of energy professionals conducted by Reuters. Forecast prices have changed very little since the last survey a year ago, and are only modestly higher than in the first survey conducted in 2016, when spot prices were much lower than they are today and near the bottom of the cycle. Long-term price expectations have become anchored around $70 per barrel – with forecasts clustered in a range of $60-$70 for 2018 widening to $60-$80 by 2020. Responses were received from just over 1,000 between Jan. 9 and Jan. 11.
Brent prices in 2018 are expected to average $65 per barrel, which is only marginally higher than the $60-65 forecast in last year's survey. Brent prices in 2019 are expected to average $65-70, up from about $65 in the 2017 survey. By the end of the decade, prices are expected to average around $70 in 2020, basically unchanged since the surveys in 2017 and even 2016.
Naphtha
The Asian naphtha crack tumbled 10.5 percent to hit a three-month low of $92.03 a tonne on Thursday on ample supplies despite ongoing demand.
The balance January naphtha crack has fallen further to $ 0.10 /bbl.
Gasoline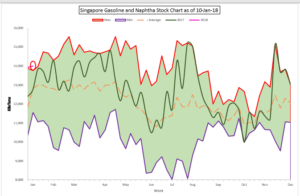 The Asian physical gasoline crack Brent eased marginally to $ 7.92 /bbl.  Light Distillate stocks rose by 76 Kb to nearly 14 million barrels. This is the highest level achieved in the last five weeks and the highest for this time of the year. Stocks in Fujairah too rose by 876 kb to 8.27 million barrels.
Singapore received some rare supplies out of Europe. Such supplies are rare because Singapore is not structurally short of the product and movement usually is in the opposite direction.
The balance January crack is lower at $ 10.55 /bbl.
Distillates
Gasoil stocks in Singapore eased by 346 kb last week. This is still marginally higher than the levels at the same time last year. Fujairah stocks however, built by 746 kb. Cash prices continue to stay easy due to ample supplies. However traders expect that jet prices may improve due to the upcoming Chinese New Year demand.
The balance January crack has increased to  $ 14.10 / bbl.  The 10 ppm Gasoil crack is also valued higher at $ 15.30 /bbl. The regrade has improved to $ 0.90 /bbl
Fuel Oil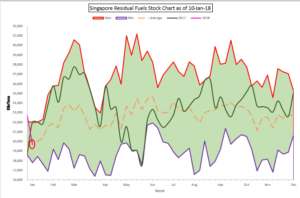 Singapore Fuel Oil cracks firmed up after stocks in Singapore plummeted by over 3 million barrels to below the five year average for this time of the year.
This came as net fuel oil imports into Singapore fell 43 percent from the week before to a two-week low of 825 KT. This drop in weekly fuel oil stocks was the largest weekly volume change since the week to June 14 when inventories jumped by 4.674 million barrels.
This marked the second consecutive week of sharp declines after fuel oil stocks fell 2.462 million barrels in the week to Jan. 3.  Onshore fuel oil inventories were 10.5 percent lower than the same time last year.
Fujairah Stocks however, rose by 448 kb to just over 9 million barrels.
The balance January 180 cst crack has improved to -$ 6.30 /bbl today. The visco spread is valued at $ 0.30 /bbl.
About this blog
This blog post attempts to give a top level summary of the Singapore market goings on to a person who seeks to obtain a directional sense of the market on a daily basis.
Disclaimer : All the views are the author's personal views. These do not constitute an advice to buy or sell any commodity