Crude Oil
Crude oil prices soared as markets expected, and were granted another huge draw in crude stocks. Brent moved up $ 1.04 to settle at $68.82 /bbl. WTI crude futures also gained $ 1.26 and settled at $62.96 /bbl.
Both futures are now at their highest levels since December 2014. The impact of the API report has carried over into the Asian morning today with Brent quoting at $ 69.17 and WTI at $ 63.45, gains of 35 cents and 45 cents respectively on the previous settle at the time of reporting.
Many commentators (including ourselves) are crying for caution saying that the market is overheated and could lead to trouble.  However, the market is having its own dynamics and refusing to come off.  
In the latest Short Term Energy Outlook, the EIA said that US crude output will surpass 11 mb/d by end-2019.
Azerbaijan's oil production rose to 810 kb/d in December (+19 kb/d m/m), including 55 kb/d of condensate, according to state data. Exports also rose marginally by 6 kb//d to 649 kb//d.
On the other hand,  Venezuelan crude output dropped by 100 kb/d to 1.7 mb/d in December, according to estimates by Platts. This represents a low not seen in more than 15 years.
API Data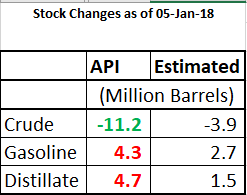 The API has reported a massive draw of 11.2 million barrels of crude. If confirmed by the DOE, this will be the largest draw since September 2, 2016 when crude stocks drew by 14.5 million barrels.
The build in products continues to act as an harbinger of caution though. Some analysts state that the reported draw could be the delayed impact of the shut down of the Forties pipeline.
As usual, the market will look to the DOE data released this evening for confirmation.
Naphtha
The Naphtha crack rose for the first time this year to settle at $ 105.13 /MT. Firm demand and lower volumes from the Middle East are expected to offset the high volumes coming in from the West. Middle East exports of naphtha to Singapore in January are estimated at a 19 month low of 2.3 to 2.4 Million MT.
The balance January naphtha crack is marginally lower at $ 1.60 /bbl. 
Gasoline
The Asian physical gasoline crack to Brent recovered to $7.80 /bbl. However, the overall sentiment on gasoline is likely to stay subdued as stocks continue to build in the US.
For today though, the balance January crack has shot up to $ 10.75 /bbl.
Distillates
Another reported build in distillate stocks in the US will likely act as a damper of any bullish sentiment for gasoil. The jet market appears little changed from yesterday with traders expecting deals to take place at a discount of around 40 cents to Singapore quotes.
The balance January crack continues to drop and is at $ 13.65 / bbl. today.  The 10 ppm Gasoil crack is at $ 14.85 /bbl. The regrade has improved to $ 0.60 /bbl
Fuel Oil
Fuel oil continues to be dismal as demand from China ahead of the Chinese New year appears to be muted. Socar has also been reported to have fixed a VLCC to deliver Fuel Oil into Singapore at the end of February. This is the second carrier being reported after Gunvor yesterday.
The balance January 180 cst crack has now plumetted to -$ 6.20 /bbl today. The visco spread is valued at $ 0.35 /bbl.
About this blog
This blog post attempts to give a top level summary of the Singapore market goings on to a person who seeks to obtain a directional sense of the market on a daily basis.
Disclaimer : All the views are the author's personal views. These do not constitute an advice to buy or sell any commodity