Crude Oil
Oil prices continued to fall with the fall being attributed to a variety of reasons. Brent futures fell 73 cents to settle at $ 63.61 /bbl.  WTI fell by $ 1.03 to settle at $ 60.12 /bbl.
The reasons being attributed to yesterdays falls are  any / all of the below
Strength in the US dollar
Possibility of a global trade war stunting growth
Possibility of a rise in stocks in Cushing. As per reports by Reuters, unofficial data shows a small rise of 290 Kb in stocks at Cushing as of the week to March 6. If this is sustained in the next week DOE data, this would be the first increase in stocks in 12 weeks.
Overall concern about increase in production.
Naphtha
Asia's naphtha crack recovered yesterday to settle at $ 83.05 / MT.  Demand continued to be strong with purchasers from Malaysia joining the string of South Korean buyers.
The March crack has is marginally higher at $ 1.30 /bbl  
Gasoline
Asia's gasoline crack to Brent further weakened for the sixth day in a row to settle at $ 7.76/bbl yesterday.
Light Distillate stocks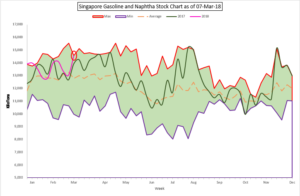 in Singapore rose by 1.4 million barrels to reach 14.58 million barrels, their highest level for this time of the year and levels not seen since August 2017.
This was also just marginally shy of the record 15.5 million barrels of stocks reported in March 2016.
The March 92 Ron gasoline crack has dropped $ 11.05 /bbl
Distillates
Unusually strong demand for gasoil with 10 ppm sulphur content in the Singapore cash market has pushed the cash premium to Singapore benchmark price higher on Thursday. Nine gasoil deals on 10ppm grade totalling more than 1.4 million barrels were traded on Thursday, making this the largest volume traded in a single session this year.  Trader Winson was the dominant seller of the 10ppm cargoes while BP was the dominant buyer, but the reason behind the spree was unclear.
But apart from the vibrant cash deals, gasoil supplies were still high. This was reflected in Singapore's middle distillates stock levels where inventories were at a seven-week high of 9.333 million barrels in the week to March 7
The March paper gasoil crack is higher at $ 15.05 /bbl. The 10 ppm crack is at $ 15.55 /bbl.  The March regrade has eased further to $ 1.00 /bbl today.  
Fuel Oil
Cash differentials of Asia's 380-cst high sulphur fuel oil extended gains for a fourth straight session on Thursday, lifted slightly higher by buying interest for physical cargoes of the fuel. Singapore weekly onshore fuel oil inventories slipped 499 kb to 22.03 million barrels in the week ended March 7. The lower Singapore fuel oil stocks came amid a 76 percent drop in net imports of the fuel into the city-state from the week before to a seven-week low of 279,000 tonnes.
The March 180 cst crack has further strengthened to -$ 3.80 /bbl. The visco spread remains at $ 1.10 / bbl.  
Hedge Recommendations
Hedge recommendations are essentially made for refiners. These are not trading positions as such. The rationale of these positions is to lock in extraordinary levels for the refiner.
Today's status of active recommendations is below

About this blog
This blog post attempts to give a top level summary of the Singapore market goings on to a person who seeks to obtain a directional sense of the market on a daily basis.
Disclaimer : All the views are the author's personal views. These do not constitute an advice to buy or sell any commodity