Crude Oil
Crude prices recaptured some of Wednesday's losses yesterday. Brent closed $ 0.98 higher at $62.20 /bbl. while WTI also recovered 73 cents to settle at $ 56.69 /bbl
  Nigeria's white-collar union for oil and gas workers may begin indefinite strikes on 18 December due to "unfair labour practices" resulting in "mass sacking of workers that joined the union" at some exploration companies. The union urged locals to "stockpile adequate quantity of premium motor spirit and other petroleum products".
The oil minister said Nigeria would engage union leaders to find solutions "as quickly as possible".  This led to traders rapidly covering shorts.
Naphtha
The naphtha margin rose to a more than three week high as firm buying interest from Japanese and Korean companies re-emerged. Premiums for second half January cargoes are back in the mid to high teen range (basis CIF Japan quotes) after having eased to high single digits towards the end of last week.
The December crack for now has jumped to $ 4.60 /bbl. 
Gasoline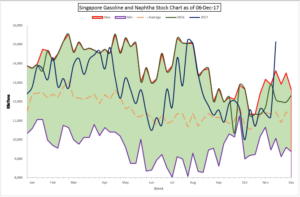 Singapore stocks saw a huge spike in Gasoline and Naphtha stockpiles. The 3.9 million build pushed stocks to their highest level in 4 months and the highest for this time of the year
However, the gasoline crack appears to have been pulled up by the strength in naphtha. The December 92 Ron paper crack, has jumped to $ 12.20 /bbl.
Distillates
Cash premiums for both Gasoil and Jet continued to hold steady as demand from Vietnam offset a small stock rise of 160 Kb. Pakistan is also seeking two cargoes for delivery in late December and mid January in addition to two cargoes it has already fixed for February. It is being assumed that this high demand is due to a cascading effect of a shift to LNG in the power sector. This shift is causing builds in fuel oil which, in turn, is resulting in lower run rates.

The December Gasoil crack though has risen to $13.30 /bbl. with the regrade at $0.55 /bbl.
Fuel Oil
The Fuel Oil market continued to remain depressed.  Pakistan's high fuel oil stocks had led it to cancel a tender for supply of 565 KT in January and a suspension of any further imports of the product for now. As Pakistan is a major consumer of the product, it is bound to have a strong impact on the market. In addition, fuel oil stocks in Singapore rose by 1.1 million barrels last week. Stocks are 9% higher than last year at this time.
The crack for December remains at – $ 4.35 for December with the visco spread at $ 0.50 /bbl.
A

bout this blog
This blog post attempts to give a top level summary of the Singapore market goings on to a person who seeks to obtain a directional sense of the market on a daily basis.
Disclaimer : All the views are the author's personal views. These do not constitute an advice to buy or sell any commodity