Crude Oil
Crude oil prices had another up day as traders chose to focus on another huge crude draw in the US. Brent crude futures, settled $ 0.23 higher at $68.07 /bbl. WTI crude futures also gained 38 cents to settle at $62.01 /bbl.
While the crude draw was undoubtedly large, it was more than compensated by an equally large product build more or less neutralizing the crude draw. Nevertheless, the market preferred to stay invested given the uncertainty in Iran and other places.
DOE Data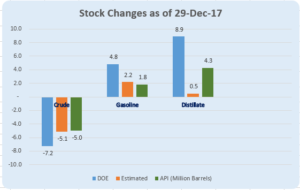 The DOE reported another significant draw of 7.2 million barrels of crude in its report yesterday. This was more than the draw reported by the API and a lot more than expectations.
However, we believe that this draw is more than offset by the huge rise in product stocks, which are also huge. This is thanks to refineries running at a record rate of 96.5% in the last week. However, with gasoline demand and diesel demand both dropping, it is  a bit difficult to understand the compulsion for these high run rates, unless it were to cater to the possibility of bigger exports.

US crude production returned to previous highs of 9.78 mb / day and looks set to go on increasing as well. With WTI at higher levels, the possibility of extracting more expensive oil looks feasible. On the right, we can see a table of stock movements over the past four weeks. We can see that while crude has drawn consistently, products have built equally consistently. This lends credence to the belief that oil stocks are not really threatened even with the prolonged production cuts. When it will suit market forces to move in accordance with this situation is anybody's guess however.

Our Material balance segment, where we look at the major factors affecting change in inventory seems to suggest that the draw in crude is a bit exaggerated. Equally, it suggests that gasoline should have drawn. The reconciliation of these figures with the overall stock figures should result in some correction once again as well.
Naphtha
Asia's naphtha crack continued to plummet to $104.95 /MT. The market was thin and in addition to increased supplies, it is possible that high crude prices have hurt the market.
The balance January naphtha crack has moved still lower to $ 1.90 /bbl. 
Gasoline
Asia's gasoline crack recovered marginally to $ 7.06 // bbl on Thursday. But it was sharply below the year-ago level of $11.02 a barrel as supplies were seen at higher levels.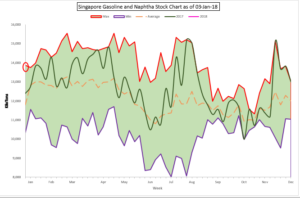 Singapore's onshore light distillates stocks, which comprise mostly gasoline and blend stock for petrol, rose 7.1 percent from the previous week to nearly 13.9 million barrels in the week ended Jan. 3.
Since this is the first data point for the year, it is not plainly visible and we have highlighted the area with a circle. This is marginally above the highest level at this time of the year.
The balance January 92 RON crack is unchanged at $ 9.95 /bbl.
Distillates
Asia's front-month 500-parts-per-million gasoil crack to Dubai crude rose to a one-week high on Thursday on the back of firm demand and shrinking supplies. This came as weekly Singapore onshore middle distillate stocks rebounded from a three-year low at the end of 2017. Singapore onshore middle distillate stocks snapped three weeks of declines, climbing to a three-week high of 10.327 million barrels in the week to Jan. 3, up 31 percent from the previous week
The balance January is higher at $ 14.850 / bbl. today.  The 10 ppm Gasoil crack is at $ 15.80 /bbl. The regrade has collapsed to $ 0.45 /bbl
Fuel Oil
 Asia's January visco spread fell to its lowest in 1-1/2 years on Thursday amid falling demand for low-viscosity fuel oils. Demand for low-viscosity fuel oils was hit at the end of 2017 when Pakistan said it had indefinitely suspended fuel oil imports, significantly reducing demand for the fuels which are used in power generation.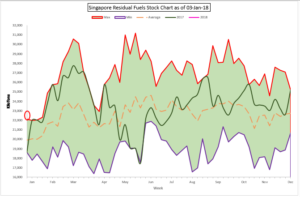 Singapore weekly onshore fuel oil inventories fell 10 percent, or 2.462 million barrels (about 367,000 tonnes), to a two-week low of 22.728 million barrels (3.392 million tonnes) in the week ended Jan. 3.
While the latest inventory drop effectively wiped out the 382,000-tonne jump in fuel oil stocks in the preceding week, stocks are still at their highest level for this time of the year.
The balance January 180 cst crack has moved past – $ 5/ bbl to -$ 5.30 /bbl today. The visco spread has crashed to $ 0.25 /bbl.
About this blog
This blog post attempts to give a top level summary of the Singapore market goings on to a person who seeks to obtain a directional sense of the market on a daily basis.
Disclaimer : All the views are the author's personal views. These do not constitute an advice to buy or sell any commodity