Crude Oil
Crude oil prices finally had a day of correction after a strong rally. Brent crude futures, settled 45 cents lower at $67.62 /bbl. WTI crude futures eased 57 cents to settle at $61.44 /bbl.
Not much fresh has happened over the weekend in terms of geopolitical unrest. But prices could well be supported by the report that the oil rig count fell by 5 to 742 rigs last week.
Technical Analysis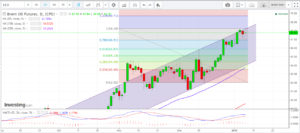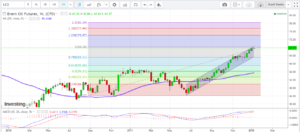 Bullish Divergences have started appearing in the daily chart MACD. While these are not reflected in the weekly charts, the oscillators are at heavily overbought levels and would require correction. Fresh longs would be advised to be nimble with strict stop losses.
While a correction appears imminent, there is nothing in the charts to suggest an imminent plunge in prices yet. 
Supports are $ 66.91, $ 66.57, $ 65.92 /bbl. Resistances are at $ 68.28, $ 69.71 and then $ 70.62
Naphtha
Sentiment for the Asian physical  naphtha crack continues to remain bearish in the wake of large supplies expected to arrive this month from the West. Although demand remains strong, as evidenced by the high premiums still being realized by sellers, expectations that close to 2 million MT of naphtha will arrive into Asia this month, the highest amount in two years is really weighing on the market. 
The balance January naphtha crack is valued at $ 1.55 /bbl. 
Gasoline
The Asian physical gasoline crack eased to $7 /bbl on Friday as high inventories across key trading hubs, ample supplies and moderate demand are keeping prices on check.
The balance January 92 RON crack is marginally lower at $ 9.85 /bbl.
Distillates
Distillate cracks have weakened amidst an active Platts Asian Trading which witnessed four cargoes of 500 ppm gasoil, each of 150,000 bbls change hands. This total volume of 600,000 bbls traded on Friday makes it the highest volume since 30 November last year. The point to note in these trades is that they were concluded at steeper discounts vis a vis offers made/trades done earlier in the week which hints at excess supplies of 500 ppm gasoil building up in the market.
The balance January is lower at $ 14.25 / bbl. today.  The 10 ppm Gasoil crack is at $ 15.45 /bbl. The regrade is back up and is valued at $ 0.70 /bbl
Fuel Oil
The fuel oil cracks are in a strong contango all the way upto and including the first quarter 0f 2019 indicating that near term demand remains lackluster due to which traders/sellers are better off storing their cargoes as opposed to selling them at steep discounts.
The balance January 180 cst crack has worsened to -$ 5.40 /bbl today. The visco spread is valued at $ 0.35 /bbl.
About this blog
This blog post attempts to give a top level summary of the Singapore market goings on to a person who seeks to obtain a directional sense of the market on a daily basis.
Disclaimer : All the views are the author's personal views. These do not constitute an advice to buy or sell any commodity