Crude Oil
Oil prices crashed on Wednesday after a bearish DOE report on US inventories. Brent futures for May (which becomes front month today), fell by $ 1.79 to settle at $ 64.74 /bbl.  WTI lost $ 1.37 to settle at $ 61.64 /bbl.
Adding to the woes of bulls was a report released by the EIA which revised crude production figures in November to a record 10.057 million barrels per day. However a reduction in crude production in December by 108 kb/d gave the market some succour.
A rising US Dollar increased the pressure on crude prices.
For today though, we expect the news that production at the 160 kb/d North Sea Buzzard field dropped by 50% this morning to support prices.  This drop was due to technical issues. Crude from the Buzzard field is the largest component in the Forties blend.

A surprise build of 2.5 million barrels in Gasoline stocks was the highlight of yesterday's inventory report by the DOE. This build triggered the fall in prices. Gasoline stocks are currently just 4 million barrels below last year's levels.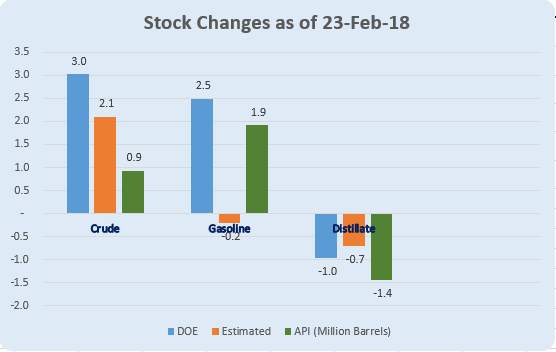 Given that the market was expecting a small draw in gasoline, the size of the build would have taken the market by surprise.
Crude stocks also built built by 3.0 million barrels, a little more than market expectations. Distillate stocks drew marginally more than expected.
The build in crude stocks is largely attributable to an increase in imports (250 kb/d wow) combined with a decrease in exports (600 kb/d). Of not is the stabilization in production of domestic crude at 10.25 mb/d for the whole of February. It is clear that this number can only increase in the near future.

Our material balance report seems to suggest that gasoline may have actually drawn due to a considerable reduction in product where as distillate stocks should have built. Having said that, the drop in gasoline production reported is surprising given the other parameters of production.
Naphtha
Asia's naphtha crack rose for the fourth straight session to reach a near one-month high of $80.05/MT on Wednesday due to North Asian demand, although liquefied petroleum gas (LPG) remained a lucrative alternative feedstock for some producers.
The March crack has further improved to $ 0.70 /bbl  
Gasoline
Asia's gasoline crack to Brent rose to $8.64/bbl, the highest since Feb. 12. Fujairah has reported an increase of 224 KB in its gasoline stocks to 8.4 million barrels
The March 92 Ron gasoline crack has eased today to $ 11.65 /bbl
Distillates
Asia's jet fuel cash premium to Singapore benchmark prices eased from a decade high in the previous session in response to improved supplier offers in the Singapore trading window. After climbing sharply over the past four sessions, some market participants expected jet cash premiums to stabilise or ease as strong seasonal demand for the fuel wanes into the coming month
Middle distillate stocks in Fujairah rose by 201 KB to a four month high of 2.7 million barrels.
The March paper gasoil crack has collapsed to $ 14.25 /bbl. The 10 ppm crack is at $ 14.80 /bbl.  The March regrade has once again blown out to $ 2.45 /bbl today. 
Fuel Oil
Asia's front-month viscosity spread held steady on Wednesday, as buying interest for physical cargoes of 180-cst fuel oil cargoes emerged in the Singapore trading window but failed to attract any suppliers. The front-month viscosity spread, the price differential between 180-cst and 380-cst fuel oil, held at $7.50 /MT on Wednesday, unchanged from the previous session but slightly lower from an eight-month high of $7.75 /MT on Monday
Fujairah inventories fell 20% to a record low of 4.8 million barrels. Sluggish regional demand and increased shipments to Asia are the major contributors to the recent decline in stocks here.
The March 180 cst crack has improved further to -$ 4.45 /bbl. The visco spread has stayed at $ 1.15 / bbl.  
Hedge Recommendations
We are going to be clubbing all our open recommendations at one place. Their status as of today is given below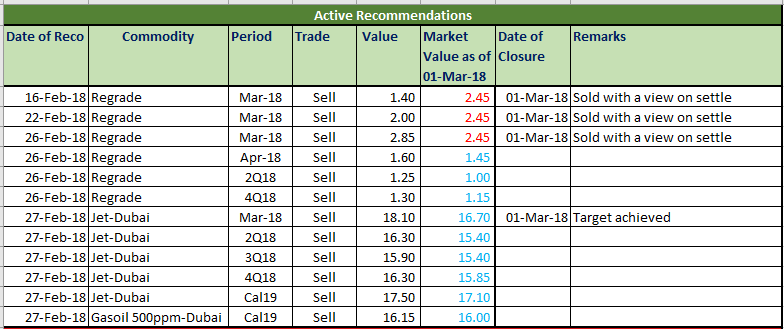 We shall be taking off the hedging recommendations for March off this list effective today. We would like to point out though that our target of Jet-Dubai crack for March has been achieved.
About this blog
This blog post attempts to give a top level summary of the Singapore market goings on to a person who seeks to obtain a directional sense of the market on a daily basis.
Disclaimer : All the views are the author's personal views. These do not constitute an advice to buy or sell any commodity