Crude Oil
Oil fell on Tuesday, its first decline in five days, pressured by a firmer U.S. dollar and expectations that upcoming weekly data will show an increase in U.S. crude inventories. Brent futures settled at $66.63 /bbl, an 87 cent drop from Monday.  WTI fell 90 cents to $63.01 /bbl.
Crude prices slumped as upbeat remarks made during Fed Chair Jerome Powell's first Congress testimony lifted US bond yields and the dollar. Notably, Powell said that a strengthening growth and inflation profile may spur policy makers to increase their projection of three rate hikes this year.  The dollar rose after Federal Reserve Chairman Jerome Powell said the U.S. central bank would stick with gradual interest rate increases.
In addition, IEA Executive Director commented that "explosive growth" in US production may extend beyond 2018, allowing the US to usurp Russia as the world's largest producer by 2019, adding to supply concerns which have been weighing on the market lately.
CFTC Data
Hedge funds and other money managers cut their combined net long position in the six most important futures and options contracts linked to petroleum by the equivalent of 48 million barrels in the week to Feb. 20.
The hedge funds' net long position has been cut in each of the four most recent weeks by a total of 263 million barrels, in what has been the largest draw down for more than seven months.
Most of this liquidation seems to be attributable to profit-taking after the big rally in oil prices over the last seven months. Few fund managers have dared to initiate new short positions. 
Fund positioning remains very stretched with longs outnumbering shorts by a ratio of almost 10:1, but down from almost 12:1 at the end of January.
API Data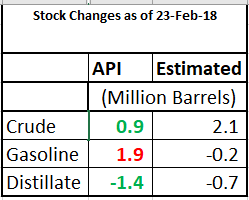 The American Petroleum Institute, in its report late last evening, said that Crude Oil inventories had risen by 993 KB. This was against an estimated build of 2.1 MB. While gasoline stocks built against expectations of a small draw, distillate stocks drew more than expected.
Overall, the report appears to be mildly bullish. However, its impact on crude prices was pretty muted as the market is viewing strength in the US dollar a little more carefully than US stocks at this point in time.
As usual, the markets will look to official figures from the DOE, to be released later today, for confirmation.
Naphtha
Asia's naphtha crack rose for a third straight session on Tuesday to a near two-week high of $74.13 a tonne, but was 39 percent below the fourth-quarter average on sufficient supplies. Naphtha demand continued to emerge from North Asia, but fundamentals had not changed from last week. Cargoes continue to trade at premiums of $ 6 -7 / MT, similar to last weak.
The March crack has has further improved to $ 0.45 /bbl  
Gasoline
Asia's gasoline crack was at a five-session high of $7.85 a barrel up 45 cents from Monday. Like naphtha, there does not seem to have been much change in the fundamentals.
Nevertheless, the March 92 Ron gasoline crack has moved still higher today to $ 11.95 /bbl
Distillates
Asia's jet fuel cash premiums extended gains on Tuesday as buying interest intensified and boosted physical trade activity. A total of 220,000 barrels of jet fuel were traded in the Singapore window through two deals, the highest volume in almost six months.
The sudden availability of supplies in the window may just be signalling a peak in jet premiums. Jet cracks are already at extraordinarily high levels apparently due to the combined impact of increase in demand for air travel and a cold wave in Japan requiring additional kerosene.
The March paper gasoil crack has increased to $ 15.15 /bbl. The 10 ppm crack is at $ 15.65 /bbl.  The March regrade has receded to $ 2.15 /bbl today. 
Fuel Oil
Asia's high-sulphur fuel oil crack for March widened its discount to Brent crude on Tuesday, slipping to a four-week low amid limited trade activity and weak market sentiment. The front-month 180-cst fuel oil crack to Brent settled at minus $8.24 a barrel, its widest discount since Jan. 29 when it was at minus $8.76 a barrel.  The weaker fuel oil crack came despite lower crude prices on Tuesday.
The March 180 cst crack has improved slightly to -$ 4.95 /bbl. The visco spread has stayed at $ 1.15 / bbl.  
Hedge Recommendations
We are going to be clubbing all our open recommendations at one place. Their status as of today is given below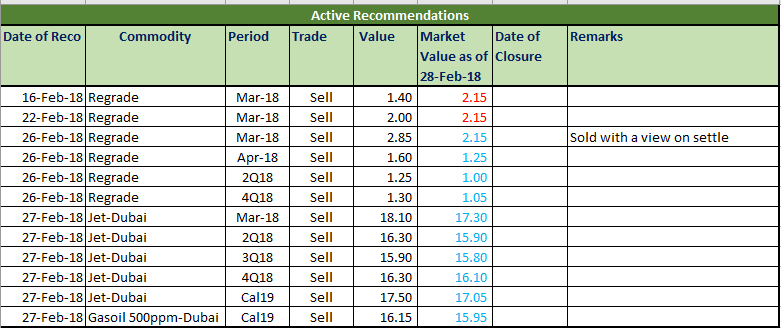 About this blog
This blog post attempts to give a top level summary of the Singapore market goings on to a person who seeks to obtain a directional sense of the market on a daily basis.
Disclaimer : All the views are the author's personal views. These do not constitute an advice to buy or sell any commodity