Crude Oil
Oil prices dipped for a second straight day on Tuesday, driven by ongoing evidence of rising U.S. crude output, while wary investors sold off stocks, bonds and commodities. Brent crude futures for March delivery settled 44 cents lower at $ 69.02 /bbl, after dipping to a low of $ 68.40. WTI fell by $ 1.06 , to close at $64.40 /bbl. 
Profit booking appeared to be the story in all markets as a strengthening US dollar affected market sentiment. In a rare phenomenon, bond yields improved even as equities sold off arguably in anticipation of an impending rate hike.
Crude continued to be weak this morning after the release of API data showed a build in crude stocks. 
In other news, Iraq has loosened its export rules by allowing buyers to withhold the destination of cargoes until 2 weeks after the issuance of its bill of lading. This provides buyers more flexibility in reselling it.
API Data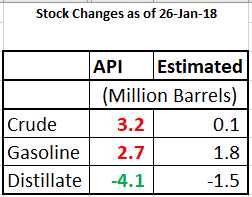 The API reported a build 3.2 million barrels in crude stockpiles. This was considerably higher than market expectations of a build of around 100 kb. Cushing stocks, however continued to draw to the extent of 2.4 million barrels.
Gasoline stocks too built more than expected. Distillate stocks however, drew 4.1 million barrels considerably more than market expectations of a 1.5 million barrel draw.
The DOE report will be awaited keenly as market could react react negatively to a corroboration of the API data. Conversely, a draw in crude stocks could trigger a recovery as the streak would extend to an 11th straight draw.
Naphtha
The Asian physical naphtha crack (to Brent) slid further on Tuesday to settle at $72.08 /MT as high stockpiles continued to weight on the market. Apprehensions of lower inflow of naphtha cargoes in Asia from the Middle East are being offset by higher volumes of cargoes coming from the West and also with some naphtha cracker operators switching to cheaper LPG to replace a small portion of their naphtha feedstock. 
The February paper naphtha crack has weakened to -$ 0.30 /bbl . 
Gasoline
The Asian physical gasoline crack (to Brent) continues to build on its recent gains, settling 35 cents higher at $ 9.21 /bbl on Tuesday.   
The February paper 92 Ron gasoline crack has crashed to $ 12.15 /bbl today. The March crack is at $ 12.70 / bbl.
While we missed out on the February hedge, we seem to have got a good handle on the March gasoline crack.
Hedging recommendation made earlier are being retained (until they are squared off). Current values are juxtaposed in (Red)
March 2018       $ 13.35 / bbl (12.70 currently)
Distillates
The Asian distillate market off-late has been driven by jet fuel whose demand has been quite robust. The jet fuel cash premium to Singapore benchmark prices reached its highest in about a month at more than 30 cents a barrel. 
The February paper gasoil crack has dropped to $ 15.65 /bbl The 10 ppm crack is at $ 16.50 /bbl.  The February regrade is still at $ 0.20 /bbl.
Hedging recommendations made earlier are being retained (until they are squared off). Current values are juxtaposed in (Red)
February 2018      Gasoil 10 ppm $ 16.15/bbl (16.50) : Jet $ 15.50/bbl (15.85)  (add more at $ 16.75 / bbl and $ 16.00 / bbl)
4Q 2018                 Gasoil 500 ppm $ 15.35 /bbl  (14.95): Gasoil 10 ppm $ 16.20 /bbl (15.95): Jet $ 16.00 /bbl (15.80). 
1Q 2019                   Gasoil 500 ppm $ 15.85 /bbl (15.45) : Gasoil 10 ppm $ 16.80 /bbl (16.40): Jet $ 16.55 /bbl (16.20)
We would also recommend hedging Cal 2019 (for aggressive hedgers) at 
Cal 2019                   Gasoil 500 ppm $ 16.10 /bbl (16.15): Gasoil 10 ppm $ 17.05 /bbl (17.10): Jet $ 16.85 /bbl (16.85)
Fuel Oil
In sharp contrast with Monday which saw 60,000 MT of 380-cst fuel oil change hands, the Asian Platts Window on Tuesday was muted with no deals getting concluded.  
The February 180 cst crack is stronger at -$ 5.15 /bbl. The visco spread has reduced $ 0.90 / bbl.  
About this blog
This blog post attempts to give a top level summary of the Singapore market goings on to a person who seeks to obtain a directional sense of the market on a daily basis.
Disclaimer : All the views are the author's personal views. These do not constitute an advice to buy or sell any commodity