Crude Oil
Crude retreated further from the highs of the beginning of the week. Brent closed down 49 cents to settle at $57.41 /bbl while WTI ended 58 cents lower to settle at $51.56 /bbl.
The retreat is not surprising bearing in mind
The DOE report which seemed to suggest that things are returning to normal and there may not be a shortage of either crude or products
The large length in futures and options contracts held at the end of last week which need some easing out.
Naphtha
The naphtha cracks continued to slide amidst a quiet physical market attributed to the ongoing APPEC conference in Singapore. It is expected to resume stronger in the next few days.
The October crack  is valued lower at $ 2.40 /bbl
Gasoline
The gasoline cracks strengthened on the back of a drop in Gasoline stocks in Singapore yesterday to nearly a 3 month low of just under 11 million barrels. Gasoline stocks have now dipped under their 5 year average for this time of the year.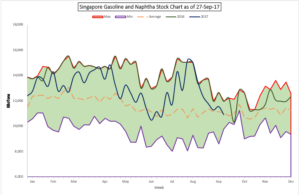 The October 92 Ron crack is valued lower today at $ 11.45 /bbl.
Distillates
The distillate cracks have further improved in strength even as stocks decreased in Singapore to a 3 month low of 10.48 million barrels. Distillate stocks are below their 5 year average in Asia, Europe as well as the USA and a cold winter in the US and Europe could make the distillate crack very interesting.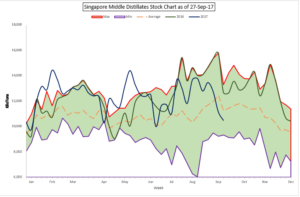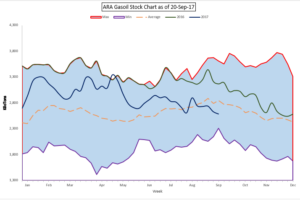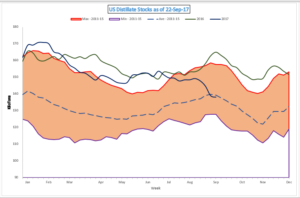 The October crack is higher at $14.35 /bbl.  The regrade has retreated to $ 0.40 /bbl
Fuel Oil
Fuel Oil cracks have strengthened following a strong draw of 1.3 Million barrels to 23.3 million barrels. However, this may not be long lived as the ARA reported a build of 1.2 Million barrels
The October crack is valued at -$2.55 / bbl. The visco spread is at $ 0.60 /bbl.
About this blog
This blog post attempts to give a top level summary of the Singapore market goings on to a person who seeks to obtain a directional sense of the market on a daily basis.
Disclaimer : All the views are the author's personal views. These do not constitute an advice to buy or sell any commodity