Crude Oil
Oil prices edged up on Thursday, remaining near 2-1/2-year highs after data showed strong demand for crude imports in China and on increased U.S. refining activity that drew more crude from inventories. Brent settled  28 cents higher at $66.72 /bbl. WTI settled 20 cents higher at $ 59.84 /bbl.
Trading was typically thin at year end, with many traders on vacation.
In other news,   China issued its first batch of 2018 crude import quotas, totaling 121.32 million tons for processing. The quota was given to 32 independent refiners and 12 state trading firms. In addition, fuel export quotas of 16.24 million tons under the general trade route were also assigned to state refiners.  
Japan's oil product consumption surged 13.4 % m/m (flat y/y) in November, roughly in line with seasonal trends. Gasoline and diesel consumption are up 3.7 % and 15 % m/m respectively but remain down ~1 % y/y. Diesel exports jumped ~85 % m/m to 176 kb/d. Fuel oil exports also surged 58 % to 136 kb/d as well.
DOE Data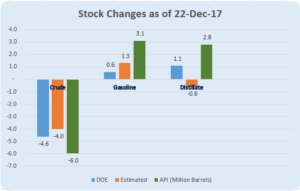 The DOE data reported a significant draw of 4.6 million barrels. However, it was smaller than the API draw. Inventories excluding the nation's strategic reserve have declined more than 11 percent in the last year.
Higher refinery runs (95.4 % as compared to 94.1 %) undoubtedly caused the draw in crude and build in product stocks.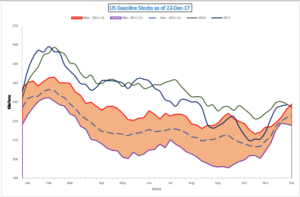 Gasoline stocks were up 591 Kb, less than the expected build of 1.3 million barrels.  There was a healthy growth in demand to 9.4 mb /d in this weak.  Having said that, the high runs mean that Gasoline stocks are almost at the same level as this time last year.
Distillate stocks surprisingly built by 1.1 million barrels against an expected draw of  600 Kb. The build has been caused by a significant drop in demand of 454 kb /d along with a drop in exports of 109 kb / d.

In our section on material balance, we can see that if use basic inventory calculation methods, crude stocks should have built by 3 million barrels. Gasoline stocks should have drawn by 1.9 million barrels and Distillate stocks should have built by a huge 6.5 million barrels.
Naphtha
The Asian naphtha crack recovered yesterday to $ 118.70 / MT. Although spot purchases ebbed this week, overall demand has soaked up a lot of the supplies.  Spot premiums paid this week for naphtha scheduled for delivery to South Korea in the first half of February, at more than $11 a tonne to Japan quotes cost and freight (C&F), reflected tight supplies. About a year ago cargoes scheduled for the corresponding period were at discount levels.
The January Naphtha crack is valued higher at $ 3.40 /bbl.
Gasoline
Asia's gasoline crack recovered 1.6 percent to $7.76 a barrel after falling to a 9-1/2 month low the previous day.
China has raised refined products export quotas to its four state oil majors by 30 percent in the first batch of allowances for 2018. Of the total 16.24 million tonnes of oil products, 40.5 percent is gasoline. China has been exporting high volumes of gasoline, with November exports at 1.042 million tonnes, only 5.3 percent lower than the record volume in June 2016.  China's November exports were still lower than India's 1.14 million tonnes for the same month.
The 92 RON January crack has moved lower to $ 10.95 /bbl.
Distillates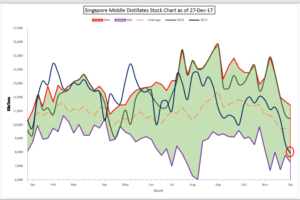 Asia's front-month 500ppm gasoil margin held near a 3-1/2 month high reached after official data showed Singapore middle distillate inventories fell for a third straight week.
Singapore onshore middle distillate stocks slid to a three-year low of 7.911 million barrels in the week to Dec. 27, down 7.9 percent from the previous week, the latest data from International Enterprise (IE) showed.  The last time Singapore middle distillate stocks were lower was in the week to Dec. 17 in 2014, when they stood at 7.764 million barrels. 
However, China's increased allowances for 2018 oil product exports weighed on sentiment and had some traders expect this to pressure overall refining margins in the new year.
The Gasoil crack is higher today at $ 14.55 / bbl. today.  The regrade is higher at $ 0.70 /bbl
Fuel Oil
Cash premiums for Asia's 380-cst high-sulphur fuel oil cargoes climbed to a near-two month high on Thursday as trading volumes of physical fuel oil cargoes in the Singapore window climbed to a nine-session high.  
Meanwhile, Asian front-month fuel oil cracks extended losses to their lowest since the first quarter of the year as onshore fuel oil stocks in Singapore climbed to an eight-week high. Singapore weekly onshore fuel oil inventories jumped 11.3 percent, or 2.559 million barrels (about 382,000 tonnes), to an eight-week high of 25.190 million barrels (3.76 million tonnes) in the week ended Dec. 27.
The 180 cst crack has gone still lower -$ 4.25 /bbl with the visco spread unchanged at $ 0.65 /bbl. 
About this blog
This blog post attempts to give a top level summary of the Singapore market goings on to a person who seeks to obtain a directional sense of the market on a daily basis.
Disclaimer : All the views are the author's personal views. These do not constitute an advice to buy or sell any commodity