Crude Oil
Crude prices corrected today with the market taking profits. Brent settled  58 cents lower at $66.44 /bbl. WTI settled 33 cents lower at $ 59.64 /bbl.
The market seemed to be easing out as news of the restart of the Forties pipeline came in. Flows through the Forties pipeline has recovered to ~50% the normal rate. BP said in an emailed statement that it is now restarting some of the fields that feed into the pipeline system. Production restrictions on the Buzzard field, which is the UK's largest oil field, have also been lifted.
While Libya's NOC said that the pipeline will take about a week to restart, Platts reported that there were no disruptions to the Es Sider loadings as there was a second pipeline through which loading could proceed at normal pace.
API Data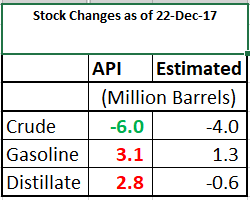 The API data reported another sizeable draw in crude of 5.96 million barrels. Gasoline and Distillate stocks were up 3.13 and 2.76 million barrels respectively.
While the continued crude draws no doubt are bullish and signs of rebalancing, they are not so worrisome in the long run. That is because even at these levels what is likely to happen is a rebalancing of US crude prices eventually.
Naphtha
The Asian naphtha crack cotninued to ease to $ 116.93 / MT. The impact of higher crude prices is not flowing through into Naphtha prices at these levels.  Demand was slower this week versus last as purchases wound down, with many traders away for the year-end holidays. The demand for naphtha however continues to remain high as petchem demand is supporting high run rates for crackers.
The January Naphtha crack is valued lower at $ 3.30 /bbl.
Gasoline
Gasoline remains dull in trade as rising stockpiles everywhere dampen prices.
A bright spark was reported from India as Gasoline consumption grew 9.8% year on year. India is the world's third largest consumer of oil products. However its impact may not be much as India is also a net exporter of gasoline.
The 92 RON January crack has moved lower to $ 11.00 /bbl.
Distillates
Despite limited trade activity, the front-month time spread in Asia's 500ppm gasoil climbed to its widest premium in nearly two weeks amid healthy near term supply and demand fundamentals. Industry participants are also looking ahead to the announcement of China's oil product export quotes for the first quarter of 2018.
Fujairah middle distillate inventories rose 442,000 barrels, or 30.7 percent, from a week ago to a total of 1.882 million barrels in the week ended Dec. 25. Middle distillate inventories in the Fujairah oil hub are now at a six-week high
The Gasoil crack is lower today at $ 14.20 / bbl. today.  The regrade is unchanged at $ 0.65 /bbl
Fuel Oil
Asia's 380-cst front-month time spread climbed to its widest premium in just over a week on Wednesday amid limited trade activity during the holiday season, while the front-month crack to Brent crude slipped to a two-week low.
According to Energy Aspects, shipments of Fuel Oil from the West to Singapore is expected to exceed 4 million tons for the first time since August keeping the market well supplied in the near term.
Fujairah inventories rose by 70 KB from a week ago.
The 180 cst crack has now dropped to -$ 3.95 /bbl with the visco spread unchanged at $ 0.65 /bbl. 
About this blog
This blog post attempts to give a top level summary of the Singapore market goings on to a person who seeks to obtain a directional sense of the market on a daily basis.
Disclaimer : All the views are the author's personal views. These do not constitute an advice to buy or sell any commodity