Crude Oil
Superficially bullish DOE data seemed to push Brent up and the Brent – WTI spread wider. Brent closed 11 cents higher at $58.44/bbl while WTI finished 29 cents lower to settle at $ 52.18 /bbl.
The DOE data was in rarely close conformity with the API data and the market was taken aback with the levels of draws in products. However, there were bearish elements which we shall discuss in our section on the DOE data.
In other news, the Ceyhan pipeline is still pumping at around 250 kbpd. Iraq's North Oil Company is reportedly working with the Kurdish Kar group to facilitate the process of getting the shut portions back completely on stream.
DOE Data
The DOE reported a build of 856 Kb in crude stocks and draws of  5.5  and 5.2 million barrels in gasoline and distillate stocks respectively.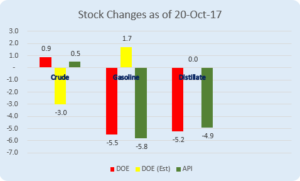 Very rarely do we see such a high degree of similarity between DOE and API data.
While the crude data seems more or less in consonance with what could be seen on the ground, the high draws in products appear terribly bullish. We shall see if there is some rationale for these numbers.
If we look at gasoline numbers, we can see that gasoline production dropped by around 100 kbpd even after an increase in refinery runs from 84.5% to 87.8%. This is not unreasonable given that refineries would be changing to gasoil mode for the winter. Imports dropped by around 450 kbpd. Exports increased by 280 kbpd. And finally consumption (gasoline demand) increased by 180 kbpd. This drain on the system is of the order of 1 million barrels per day of which only 20% is due to increased demand. Therefore, we can safely say that the gasoline numbers are not bullish.
If we look similarly at distillate numbers, we get an increase of just 10 kbpd in production. This level seems grossly at odds with the increase in refinery runs. Imports increased by 25 kbpd. Exports increased by 135 kbpd. And finally demand increased by 620 kbpd. The net impact is of the order of a draw of 725 kbpd which appears reasonable.
However, the production numbers look a bit odd. Given that 16,306 kb was the gross input this week as against 15,697 kb last week, a total production number of 17,980 kb this week against 18,023 kb last week is extremely puzzling
On the bearish side, Crude production is right back up at 9.5 million barrels per day, in increase of 900 kbpd the levels prior to Nate and Harvey. The build in stocks is not higher thanks to higher refinery runs (roughly 600 kbd) and exports (125 kb/d) to offset higher imports of 600 kbpd.
The above numbers would suggest a higher build in crude stocks as well. So we are not quite sure what we are seeing here.
Naphtha
The physical naphtha market remains strong with fresh demand being seen in the market for December cargoes. Among the buyers seen in the market are South Korea's KPIC, Hanwha Total and Taiwan's Formosa.
The paper crack for November is stable at $ 3.90 /bbl.
Gasoline
The Gasoline cracks have receded slightly after moving up in the past few days. However, demand from U.S. buyers is keeping the market supported.
The November 92 Ron paper crack is slightly lower at $ 11.60 /bbl.
Distillates
Distillate cracks have also eased on the back of increased spot supplies from Russia and India. Additionally, China is also expected to increase its exports of the fuel with refiners applying for more export quotas.
The November gasoil crack is lower at $ 13.00 /bbl today.  The regrade however is unchanged at $ 0.10 /bbl today
Fuel Oil
Fuel Oil cracks have risen amid muted trading activity which saw only one cargo of 20,000 MT of 380 cst fuel oil traded in the Platts window. Hin Leong was the seller while Coastal was the buyer.
The November 180 cst crack is valued higher at -$1.75 / bbl. The visco spread is unchanged at $ 0.75 /bbl.
About this blog
This blog post attempts to give a top level summary of the Singapore market goings on to a person who seeks to obtain a directional sense of the market on a daily basis.
Disclaimer : All the views are the author's personal views. These do not constitute an advice to buy or sell any commodity