Crude Oil
Oil retreated late on Thursday as the U.S. dollar rebounded from early losses and strengthened, denting support for the latest crude rally, but tight U.S. supplies limited the commodity's decline. Brent futures settled 11 cents lower at $70.42 /bbl. WTI eased 10 cents to settle at $65.51 /bbl. 
The U.S. dollar rose against a basket of currencies after President Donald Trump said he wanted a "strong dollar." A day earlier, the greenback tumbled when U.S. Treasury Secretary Steven Mnuchin said he welcomed a weaker currency.
When the only factor affecting crude prices is Foreign Exchange rates, one has got to believe that there is adequate supply of crude going around.
Naphtha
Asia's naphtha crack fell to a five-month low of $77.65 a tonne on Thursday, dragged down by ample supplies and firm oil prices as Brent crude hit its highest since December 2014. Falling prices of alternative liquefied petroleum gas (LPG) and unplanned shutdowns of crackers in South Korea, although brief, added to the weak fundamentals. LPG, also used for heating, was about $80 cheaper than naphtha on Wednesday compared to $16.50 lower than naphtha at the start of the year.
Premiums for Naphtha cargoes have eased to $ 4 / MT as compared to $ 6.5 at the beginning of last week.

The February naphtha crack has moved to negative territory and is valued at -$ 0.20 /bbl . 
Gasoline
Asia's gasoline crack (to Brent) similarly came under pressure from high supplies and strong oil prices to reach a one-week low of $7.62 /bbl. 
Even though Light Distillate stocks in Singapore fell to an 8 week low and below the 5 year average level for this time of the year, stocks in the US have been increasing for the past 12 weeks. Fujairah stocks too are 30% higher than last year's levels.
However, the February paper crack marginally stronger today at $ 11.80 /bbl.
Distillates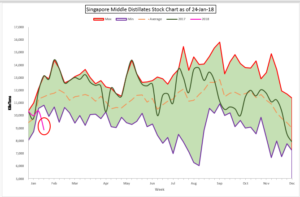 Singapore's middle distillates onshore inventories dropped 14 percent, or 1.46 million barrels, to reach a four-week low of 8.9 million barrels in the week to Jan. 24. Stocks in Fujairah too are 56% lower than last year's levels. 
Asia's jet fuel crack (to Dubai) was almost at a one-month high of about $15.70 a barrel on improved demand and a drawdown in stocks.
The February paper gasoil crack has has risen further  $ 15.70 /bbl The 10 ppm crack is at $ 16.55 /bbl.  The February regrade is marginally higher at $ 0.25 /bbl.
We would maintain our recommendation to hedge given yesterday as follows
February 2018       Gasoil 10 ppm $ 16.15/bbl : Jet $ 15.50/bbl  (add more at $ 16.75 / bbl and $ 16.00 / bbl)
4Q 2018                   Gasoil 500 ppm $ 15.35 /bbl : Gasoil 10 ppm $ 16.20 /bbl : Jet $ 16.00 /bbl. 
1Q 2019                   Gasoil 500 ppm $ 15.85 /bbl : Gasoil 10 ppm $ 16.80 /bbl : Jet $ 16.55 /bbl
We would also recommend hedging Cal 2019 (for aggressive hedgers) at 
Cal 2019                   Gasoil 500 ppm $ 16.10 /bbl : Gasoil 10 ppm $ 17.05 /bbl : Jet $ 16.85 /bbl
We will be leaving these recommendations in future editions till we square them at a profit or loss.
Fuel Oil
A firm Singapore fuel oil market compared with the northwest European prices helped push the front-month East-West arbitrage spread to its widest premium since Dec. 21 on Thursday. A spread in premium was recorded despite the surge in Singapore fuel oil inventories and decline in VLCC tanker rates along the Rotterdam-to-Singapore route, which were assessed at about $3 million on Thursday, down from about $3.2 million a week ago,. 
The February 180 cst crack is higher at -$ 5.65 /bbl. The visco spread has risen to $ 0.95 / bbl.  
4Q18 and 1Q19 are currently valued at around -$ 4.15 / bbl. In our Oil Price Digest of January 4, we had recommended hedging this spread at -$ 2.30 /bbl. We will square these positions off today.
.
About this blog
This blog post attempts to give a top level summary of the Singapore market goings on to a person who seeks to obtain a directional sense of the market on a daily basis.
Disclaimer : All the views are the author's personal views. These do not constitute an advice to buy or sell any commodity