Crude prices retreated from yesterday's highs as Brent fell by 53 cents to settle at $ 52.04 /bbl. WTI too dropped 98 cents to settle at $ 47.43 / bbl.
It is not immediately clear as to why prices fell other than profit taking. One possible reason given is the strong US dollar which makes purchasing assets a little more expensive in other currencies.
For today, the US is focused on the possible impact of Hurricane Harry. As refineries and terminals starting slowing / shutting down operations, gasoline prices spiked on fears (hopes?) of damage to facilities. Below is a snapshot of actions taken in the US in preparation for the hurricane (Source: Reuters)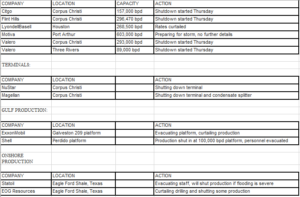 Naphtha
Naphtha cracks continue to climb as more buyers emerge for October cargoes. Also, the recent spike in gasoline prices has supported naphtha demand which is a commonly used blending component for petrol.
The September crack is higher at $ 2.15 /bbl
Gasoline
Gasoline cracks have risen on the back of apprehensions that Hurricane Harry may damage several oil facilities in the US. Additionally, falling inventories in Singapore has also supported prices. Singapore's onshore light distillates stocks, which comprise mostly gasoline and blending components for petrol, fell 10.36 % to touch a three-week low of 13.46 million bbls in the week to August 23.
The 92RON crack for September is valued higher at $ 13.90/bbl
Distillates
Distillate cracks have also managed to climb, notwithstanding rising inventories in the East. Singapore's onshore gasoil and jet fuel stocks moved higher by approximately 1 % to a 3-month high of 13.768 million bbls in the week to August 23. This was essentially attributed to increased shipments into Singapore from Malaysia, China and the UAE and reduced exports from Singapore to Australia, Brunei and Indonesia.
The September gasoil crack is higher at $ 13.80 /bbl. Regrade has worsened to -$ 0.60 /bbl
Fuel Oil
Fuel Oil cracks continue to fall amid poor demand and high inventories. Singapore onshore fuel oil inventories rose 1.7 % to a total of 3.69 million mt in the week to August 23. This came as net imports into Singapore rose 45 % from the previous week, to a 14-week high of 1.45 million mt. Compared with the same time last year, fuel oil stocks are now 15 % higher.
The 180 cst crack is lower at -$1.90 / bbl for September. The visco spread is now at $ 0.65 /bbl.
About this blog
This blog post attempts to give a top level summary of the Singapore market goings on to a person who seeks to obtain a directional sense of the market on a daily basis.
Disclaimer : All the views are the author's personal views. These do not constitute an advice to buy or sell any commodity