Crude prices ended higher as the market treated the DOE data as bullish. Brent rose by 70 cents to settle at $ 52.57 /bbl while WTI gained 58 cents to settle at $ 48.41 / bbl.
For the next few days, the US market is going to be focused on Texas as the tropical depression Harvey is expected to strengthen into a Category I hurricane by Friday. As the depression is headed towards Houston, operators in the area are already closing down platforms and evacuating workers as a precaution.
DOE Data
The US Department of Energy reported that crude stocks fell by 3.3 million barrels, gasoline stocks fell by 1.2 million barrels while distillate stocks were more or less flat.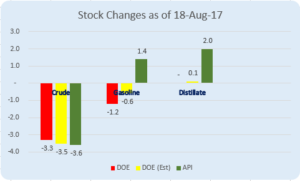 While this was more or less in line with expectations, the market took two factors into account to decide that this was bullish; the fall in Gasoline stocks being a bit more than anticipated and the continuous streak of draws in crude cementing the impression that stocks are indeed 'rebalancing'.
US crude production increased to 9.53 mbpd, marginally short of the highest level reached in 2015. Gasoline demand gaining week over week was also regarded as a positive sign though it is still lower than last year's deman.
Naphtha
Naphtha cracks have strengthened further as spot demand is soaking up supplies. Several cargoes for delivery in October were heard to have changed hands in Asia.
The September crack is higher at $ 1.75 /bbl
Gasoline
Gasoline cracks have also managed to rise on the back of bullish DOE data which  saw gasoline stocks falling by 1.2 million barrels.
The 92RON crack for September is valued at $ 12.80/bbl
Distillates
Distillate cracks continue to climb as trader continue to keep a watch on a possible arbitrage opportunity to ship diesel cargoes from Asia and the Middle East to Europe. The Asian market appears to be well balanced which is supporting gasoil prices.
The September gasoil crack is higher at $ 13.10 /bbl. Regrade is unchanged at -$ 0.45 /bbl
Fuel Oil
The Fuel Oil cracks have fallen as additional supplies are expected to come into the market.
The 180 cst crack is lower at -$1.75 / bbl for September. The visco spread is unchanged at $ 0.80 /bbl.
About this blog
This blog post attempts to give a top level summary of the Singapore market goings on to a person who seeks to obtain a directional sense of the market on a daily basis.
Disclaimer : All the views are the author's personal views. These do not constitute an advice to buy or sell any commodity