Crude Oil
Crude prices showed mixed trends yesterday as market struggled to seek for direction from here. Brent settled 14 higher at $ 56.43/bbl, while WTI lost 14 cents to settle at $ 50.55/bbl. This loss may have been due to adjustments necessitated by the expiry of the front month (Oct-17) contract.
For now, the markets await the outcome of today's discussion among OPEC countries on the future status of production cuts.
Naphtha
Demand for Naphtha cargoes is now apparent beyond the spot contract of first half November as buyers could be seen for second half November deliveries as well.
The October crack  is valued higher at $ 2.55 /bbl
Gasoline
The Gasoline physical crack continued to drop, settling at $ 10.42 /bbl yesterday, one of the lowest settles in the past two months. Not only has the demand from US / Mexico for gasoline receded, but also stocks in Singapore have increased by 272 kb to reach
The October 92 Ron crack is valued much lower today at $ 11.30 /bbl.
Distillates
Premiums for diesel and jet eased further yesterday despite significant trading activity in the window yesterday where 7 gasoil trades and 2 jet trades were reported.
There are signs that fuel shortages in New Zealand are reducing after a spokesman for the country's oil industry stated that rationing will partially ease from today.
The October crack is unchanged today at $14.10 /bbl.  The regrade is higher at$ 0.40 /bbl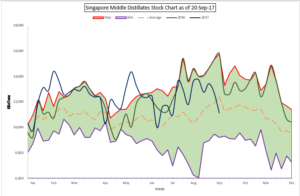 Distillate stocks have fallen globally.  Yesterday we had shown a graphic of how distillate  stocks in the US have fallen below the 5 year average.  As per stock reports from Singapore yesterday, distillate stocks in Singapore have dropped by 1.6 million barrels to fall below the 5 year average as well. Gasoil stocks in ARA too have decreased reflecting lower supplies.
We would recommend caution while hedging gasoil at these levels.
Fuel Oil
Fuel Oil cash premiums remained steady notwithstanding a stock build of 1.1 million barrels in Singapore However, the cracks have eased.
The 180 cst October crack is at -$1.80 / bbl. The visco spread is unchanged at $ 0.80 /bbl.
About this blog
This blog post attempts to give a top level summary of the Singapore market goings on to a person who seeks to obtain a directional sense of the market on a daily basis.
Disclaimer : All the views are the author's personal views. These do not constitute an advice to buy or sell any commodity