Crude Oil
Crude oil prices rose on Tuesday, with renewed hope for U.S. demand under the influence of loose fiscal and monetary policy keeping prices well supported.
Brent futures settled $1.15 higher at $55.90 a barrel. The expiring Feb WTI future did settled 62 cents higher at $ 52.98 per barrel. The more active March WTI future also settled at $52.98 per barrel. However, the rise was relatively lower at 56 cents.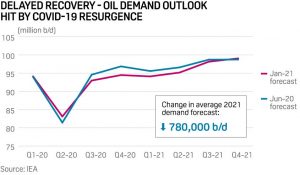 The International Energy Agency on Jan. 19 cut its estimate of the recovery in global oil demand this year, citing renewed COVID-19 lockdowns and the scale of the global vaccination challenge. Its overall figure for 2021 oil demand is now 96.64 million b/d, down from 96.91 million b/d in last month's report, the largest in a succession of downward revisions, which have totaled 780,000 b/d since last June.
India's crude oil imports in Dec'20 soared to the highest levels in nearly three years to more than 5 MB/D, but its average 2020 imports declined by about 10% YoY to 4.04 MB/D, the lowest in 5 years
covid 19 
At a global level, the death toll from the COVID-19 virus rose to 2,063,981 (+9,167 DoD) yesterday. The total number of active cases fell by around 40,000 DoD to 25.28 million. (Click here for details).
Naphtha
Asia's naphtha market slipped on Tuesday, pulling away from recent highs amid signs of robust steam cracker demand for the fuel after March trading kicked off this week, trade sources said.
Naphtha's refining margin fell from a 13-month high of $116.03 a tonne on Monday to $107.10 a tonne on Tuesday while the prompt-month Naphtha spread slipped to $7.75 a tonne, down from a near six-month high on Monday. It is unclear if spot premiums could rise further for the second-half March cargoes as trade kicks off this week.
The February crack is lower at  $2.20 /bbl.
Gasoline
The gasoline crack was marginally higher on Tuesday at $ 3.58 per barrel despite renewed lockdowns across the globe to curb the COVID-19 pandemic.
Indonesia, the largest gasoline importer in Asia, is expected to import 140 million barrels of gasoline this year, up from an estimated 91 million barrels in 2020, official data presented by the country's energy ministry showed on Tuesday. The 2021 level would also surpass pre-pandemic imports of 119 million barrels in 2019.
The February crack is marginally lower at $4.40 /bbl.
Click Here for a graphical depiction of Global Gasoline stocks by region.
Distillates
Cash differentials for jet fuel were at a discount of 16 cents per barrel to Singapore quotes, compared with an 18-cent discount a day earlier.
The front-month time spread for jet fuel in Singapore traded at a discount of 20 cents per barrel, compared with minus 27 cents per barrel on Monday, Refinitiv Eikon data showed.
With coronavirus vaccination drives under way in several countries, aviation demand is expected to find gradual strength in the coming quarters. But with China currently battling the worst outbreak of COVID-19 since March 2020, the upcoming Lunar New Year holidays would not bring the usual peak travel demand this year, trade sources said.
The February crack for 500 ppm Gasoil is lower at $4.95 /bbl with the 10 ppm crack at $ 5.80 / bbl. The regrade is at   -$ 1.00 /bbl. 
Click Here for a graphical depiction of Global Distillate stocks by region.
Fuel Oil
Asia's 0.5% VLSFO market was mixed on Tuesday, with cash premiums extending gains to near 11-month highs, while the front-month refining margin slipped from a 10-month peak on Monday as crude oil prices gained.
The strength in the low-sulphur market and the relative weakness of the high-sulphur fuel oil (HSFO) has pushed the front-month VLSFO-HSFO price differential, also known as the HiLo spread, to a more than 10-month high of $106.75 a tonne, according to Refinitiv data in Eikon.
In turn, the widening HiLo price differential is expected to boost demand for HSFO bunkers amid improved "economics for scrubbers", said JBC Energy in a note on Monday.
The January crack for 180 cst FO is marginally higher at  -$3.25 /bbl with the visco spread at $0.55 /bbl.
Click Here for a graphical depiction of Fuel Oil stocks by region.
Hedge Recommendations
No fresh action today 
Hedge recommendations are essentially made for refiners. These are not trading positions as such. The rationale of these positions is to lock in extraordinary levels for the refinery.
Click Here to see how all our recommendations have fared
About this blog
This blog post attempts to give a top level summary of the Singapore market goings on to a person who seeks to obtain a directional sense of the market on a daily basis.
Disclaimer : All the views are the author's personal views. These do not constitute an advice to buy or sell any commodity