Crude Oil
Crude prices shrugged off 'less bearish than expected' stock data from the DOE and chose to focus on other data to climb strongly after the release of data. Brent crude futures rallied by $ 1.64 to settle at $ 64.23 /bbl.  WTI, gained $ 1.41 to close at $60.60 /bbl. 
Yesterday's rally apparently did not have much to do with Oil Fundamentals. Saudi Energy Minister Khalid al-Falih said major oil producers would prefer tighter markets than end supply cuts too early. Markets also benefited from more weakness in the dollar , which dropped 0.7 percent after stronger-than-expected U.S. consumer inflation figures.  Oil has also of late been trading in tandem with stocks, which finished the day up more than 1 percent
The massive increase in US production has been having an effect on physical markets as prices for crude from the North Sea, Russia, the United States and Middle East have dropped to multi-month lows..
DOE Data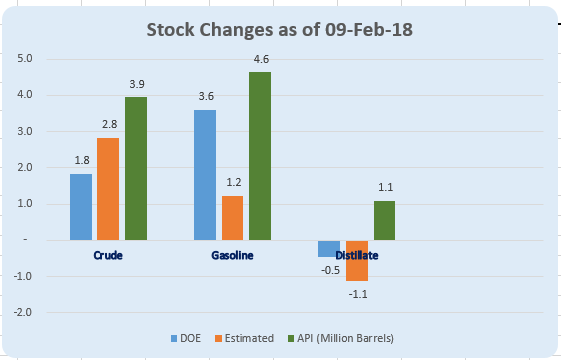 The DOE data reported a build of 1.8 million barrels in crude stocks which was less than the consensus expectation of 2.8 million barrels. Gasoline stocks built more than expected whereas distillate stocks drew less than expected.
This week saw a decline of 2.7% in run rates to 89.8%. Significantly, this decline was 3.3% in the Gulf Coast region due to maintenance on some important sites.

The material balance shows a significantly different picture from reported stock levels. With gasoline demand at an impressive level of 9.06 mb/d as also distillate demand at 4.08 mb / d, the product build in gasoline appears a bit exaggerated.
Naphtha
Asia's naphtha crack rose for a second day to reach a six-session high of $71.03 a tonne on Wednesday, supported by recent demand and weaker raw material Brent oil prices.
Buyers including Singapore's PCS, South Korea's Lotte Chemical, China's Unipec and Taiwan's Formosa were in talks to buy naphtha under term contracts. Results of the term deals were not immediately clear, but buyers such as PCS were aiming for discounts for a contract running from April 2018 to March 2019.
The March crack has risen to $ 0.50 /bbl  
Gasoline
Asia's gasoline crack fell to an almost one-month low of $7.57 a barrel as supplies built. Singapore's onshore light distillates stocks, which comprise mostly gasoline and blending components for petrol rose by 143,000 barrels to reach a 10-week high of 14.12 million barrels in the week to Feb. 13,.
The March 92 Ron gasoline crack has fallen further t0 $ 10.71 /bbl
Distillates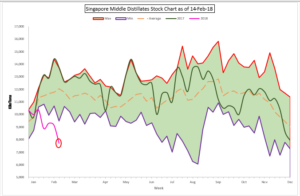 Asia's jet fuel cash premium to Singapore benchmark prices stayed unchanged at $1.10 a barrel from the previous session where the value rose to highest in more than five years due to tight supplies. Singapore's onshore middle distillates stocks plunged by 1.44 million barrels, to an over four-year low of 7.7 million barrels in the week to Feb. 13.
The March paper gasoil crack is valued at $ 13.45 /bbl. The 10 ppm crack is at $ 14.05 /bbl.  The March regrade is has jumped to $ 1.40 /bbl today. We would recommend hedging the same.
Fuel Oil
Asia's front-month high-sulphur fuel oil crack extended gains on Wednesday, further narrowing its discount to Brent crude amid weaker crude oil prices. Meanwhile, cash premiums for cargoes of 380-cst fuel oil firmed slightly on Wednesday despite the absence of buying interest for cargoes of the fuel in the Singapore trading window. 
This came as official data showed the Singapore and Fujairah oil hubs each posted declines in their weekly stocks of fuel oil.  Singapore weekly onshore fuel oil inventories dropped 4 percent from their highest so far this year to 22.828 million barrels in the week ended Feb. 13.  In the United Arab Emirates, fuel oil inventories tumbled 24 percent to a record low of 5.298 million barrels in the week to Feb. 12
With the rise in crude prices though, the March 180 cst crack has dropped to -$ 3.65 /bbl. The visco spread stays at $ 0.95 / bbl.  
Hedge Recommendations with current values in Red
March          -$ 3.00     (-$ 3.65)
2Q2018        -$ 2.80     (-$ 3.50)
3Q2018        -$ 2.40     (-$ 3.10)
4Q2018        -$ 2.05     (-$ 2.55)
1Q 2019        -$ 2.35     (-$ 2.65)
About this blog
This blog post attempts to give a top level summary of the Singapore market goings on to a person who seeks to obtain a directional sense of the market on a daily basis.
Disclaimer : All the views are the author's personal views. These do not constitute an advice to buy or sell any commodity