Crude Oil
Crude prices finally corrected after three days of strong gains. Brent settled at $63.34 /bbl, $ 1.35 lower. WTI eased 85 cents to settle at $ 57.14 /bbl
The Crude Market had a roller coaster ride yesterday, highlighted by an intraday range of over $2.60 in Brent. The market started the day on extremely firm footing amid repercussions of the outage on the Forties pipeline – Feb Brent pierced the $65 level for the first time since June 2015 and stayed aloft during Asian and European morning hours. The Brent Feb/Mar spread surged to as high as 96 cents, stretching the spread between Brent and WTI to more than $7 at one point. However, market sold off right around when US got to their desk, plunging to settle in the red  as profit takers piled in.
The implication of the Forties pipeline shut down is still not clear as Ineos sent out a mail saying that the pipeline would be closed for at least two weeks and may go on for four weeks.

API Data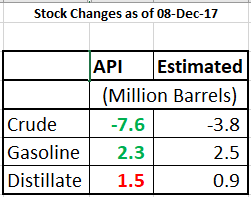 Crude stocks continued to draw strongly in the US as per the report published by the API yesterday. However, both Gasoline as well as Distillate stocks increased to levels that were largely expected. Stocks at Cushing drew by 2.6 MB
As usual, the market will be looking to the DOE data for confirmation of this report which is mildly bullish for now. The markets have reacted this morning by bidding Brent up to $ 63.95/bbl
Naphtha
Naphtha cracks continued to fall settling at $ 123.05, their lowest level in almost a week. This drop is largely attributed to high crude prices
The balance December naphtha crack has eased to $4.20 /bbl whereas the January crack is steady at $ 4.00 /bbl
Gasoline
Not much news on the gasoline market.
The balance December 92 Ron paper crack is valued marginally higher at $ 12.20 /bbl while the January crack is also at $ 12.05 /bbl
Distillates
High-sulphur gasoil cash differentials rose to an over 7-month high on Tuesday on the back of firm demand from Indonesia.
The gasoil crack continues to strengthen with the balance December Gasoil being valued at $14.05 /bbl. and January at $ 14.25 / bbl.  However, the regrade is unchanged at $0.50 /bbl and $ 1.05 /bbl for December and January respectively
Fuel Oil
Cash premiums of Asia's 380-cst high-sulphur fuel oil climbed to their highest in December on Tuesday as deal values for physical cargoes of the fuel improved. Improved sentiment also helped narrow discounts of the front-month fuel oil crack after steep losses in the previous week, but caution remains given lacklustre demand and ample near-term supplies.
The January crack has once again slipped – $ 4.05 /bbl with the visco spread at $ 0.70 /bbl
A

bout this blog
This blog post attempts to give a top level summary of the Singapore market goings on to a person who seeks to obtain a directional sense of the market on a daily basis.
Disclaimer : All the views are the author's personal views. These do not constitute an advice to buy or sell any commodity