Crude prices once again dropped like a ton of bricks on Friday on fears that energy demand would be hit due to the impact of Hurricane Irma. Brent futures dropped 71 cents to settle at $ 53.78/bbl. WTI fell by a much larger $ 1.61 to settle at $ 47.48 /bbl.
For the week, the Brent contract gained $ 1.03/bbl. WTI gained just 19 cents / bbl. The front month Brent-WTI spread has blown out to over $ 6/bbl., a condition that is a bit stretched and therefore may be cautiously regarded as a trading opportunity.
The impact of Hurricane Harvey is still being felt in the US. Last week crude stockpiles rose for the first time in 10 weeks. The Baker Hughes report also showed a decline of 3 rigs in operation to 756. Refineries are still limping back to operational status.
Technical Analysis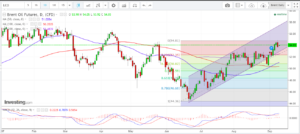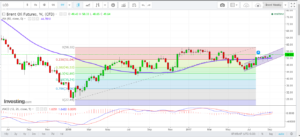 The daily Brent chart continues to be bullish as the 50 DMA crossed the 100 DMA from below. Nevertheless, signs of bearish divergences are appearing with the MACD not reacting as violently as basic crude prices. The weekly chart shows a retracement from the top of the rising channel even as prices have risen to their highest level since mid May.
Supports lie at $ 52.48 (100 DMA), then $ 52.06 (50 WMA) and then $ 51.04 (23.6% retracement on the weeklies). Resistances lie at 54.50-65 area, $ 56.28 and $ 57.31 (all previous highs)
Naphtha
Asian naphtha cracks continue to strengthen amid strong demand and lower arrival of cargoes from the West into the trading hub of Singapore. The previous week alone witnessed atleast 160,000 mt of naphtha being bought by the likes of GS Caltex, China, Japan, Malaysia and South Korea. As regards supplies, incoming September cargoes from the West, mostly from Europe and the Mediterranean are estimated at 1 million mt which is lower by approximately 150,000 mt as compared to cargoes that arrived in August.
The September Naphtha crack is stronger at $ 3.45 /bbl
Gasoline
Gasoline cracks continue to fall, as fears of reduced demand due to the ongoing havoc being created by Irma, one of the most powerful storms in a century, grips the U.S.
The 92 RON crack for September is valued lower at $ 13.55 /bbl.
Distillates
Whilst gasoil cracks remain unchanged from our previous values, the Jet crack continues to fall, thereby pushing regrade further into negative territory.  In the case of gasoil, strong demand is offsetting high inventories whereas for Jet, surplus supplies are exerting pressure on prices.
The September gasoil crack is unchanged at $ 16.10 /bbl.  The regrade is valued at -$1.00 /bbl.
Fuel Oil
Fuel Oil cracks are valued lower today, notwithstanding another trading play in the making, this time by Trafigura. In the Platts Window on Friday, a staggering  19 cargoes of 380 cst fuel oil totaling 430,000 tonnes were traded which is the highest daily volume since March 1 when 500,000 tonnes of HSFO were traded. Trafigura was the buyer of all 19 cargoes.
The 180 cst crack is valued lower at -$1.45 / bbl for September. The visco has strengthened to $ 0.60 /bbl.
About this blog
This blog post attempts to give a top level summary of the Singapore market goings on to a person who seeks to obtain a directional sense of the market on a daily basis.
Disclaimer : All the views are the author's personal views. These do not constitute an advice to buy or sell any commodity