Crude Oil
Crude Oil prices resumed their upward movement after a gap of two days.  Brent settled 44 cents higher at $63.93 /bbl. WTI also rose 46 cents to settle at $57.27 /bbl.
The goings on in Saudi Arabia remain a cause for concern. And given the amount of crude the kingdom provides to the world, uncertainty there could certainly cause havoc in the supply demand balance for oil. So far all the action has been pretty one sided. However, moves of this sort often lead to political unrest. For now, rumors are rife that Saudi King Salman may hand over power (cede power?) to his son Mohammed bin Salman in the next couple of days.
In other news, the EU's revamped Markets in Financial Instruments Directive (MIFID), known as MIFID II, aims to curb speculative trading and make markets more resilient. It comes into force in January and includes position limits on the volume of commodity derivatives a trader can hold, such as Brent oil futures.
This may well help damp volatility in the markets. As a corollary it may well damp liquidity in the markets as well.
Naphtha
The Naphtha physical crack too recovered from Tuesday's slump to settle at $124.38 / MT yesterday. This drop is however regarded as merely circumstantial rather than reflective of slacking of demand.
The paper crack for November is up at $ 3.90 /bbl. December is valued at $ 3.75 /bbl
Gasoline
Gasoline stocks in Singapore were reported to have fallen by 857 kb to 10.7 mb last week. This is very close to the 5 year average of stocks at this time of the year. US stocks also have been drawing significantly over the last few weeks and are currently at their lowest levels since November 2014.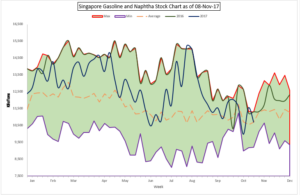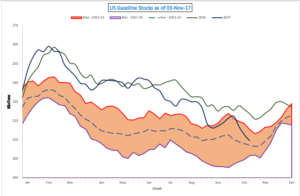 The November 92 Ron paper crack however, has moved down a lot to $ 11.55 /bbl. The December crack is at $ 11.50
Distillates
Distillate inventories in Singapore also dropped by 449 kb and are currently resting just above the 5 year average.
However, for now, supplies from India seem plentiful and causing cash premiums to ease further. Having said the above, it is worth noting that Distillate inventories in the US are at their lowest levels since February 2014 as well.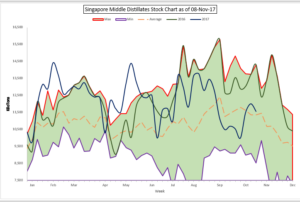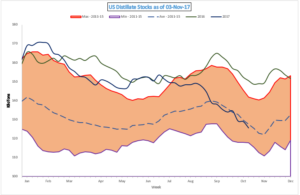 A continued drop in product inventories may well have eventually bump crude prices up. However, it is probable that motor fuel cracks may rise.
The paper crack is valued a bit higher at $ 11.50 /bbl. December is at $12.05 /bbl. While the November regrade has risen to $ 1.60 /bbl, the December regrade is a bit lower at $ 1.55 /bbl
Fuel Oil
In what must come as a relief for bulls, fuel oil stocks in Singapore dropped by 2 million barrels to 23.67 million barrels. This is the largest drop in stocks since September. Nevertheless, ample supplies are expected going forward including an AFRAMAX from Saudi Arabia which, according to ship tracking data is expected to reach Singapore by November 11.
The November 180 cst crack continued to fall to -$2.70 / bbl. The visco spread has further narrowed to $ 0.45 /bbl.
The December 180 cst crack is steady at -2.15 /bbl. .
About this blog
This blog post attempts to give a top level summary of the Singapore market goings on to a person who seeks to obtain a directional sense of the market on a daily basis.
Disclaimer : All the views are the author's personal views. These do not constitute an advice to buy or sell any commodity