Crude Oil
Oil fell for a third day on Tuesday as the U.S. dollar rose to its highest in more than a week. Brent crude futures lost 76 cents to settle at $ 66.86 /bbl.  WTI fell by 76 cents to close at $63.39 /bbl. 
While US equity markets recovered strongly yesterday after chopping trading (the Dow Jones Industrial Average range for the day was 1100 points), this did not translate back into the Energy markets. This would mainly be due to the stronger US Dollar. Another factor would be the fact that the fall in Crude prices was not as drastic as that in equities. A third major factor would be that the ratio of longs to shorts two weeks ago was around 11 : 1. The drastic fall could have had a sobering effect on the market.
In other news, US oil output may hit 11 mb/d by November, according to the EIA in its Short-Term Energy Outlook. The agency expects production to average 10.59 mb/ d in 2018 and 11.18 mb/ d in 2019 – an increase of more than 300kbd from last month's forecasts. 
API Data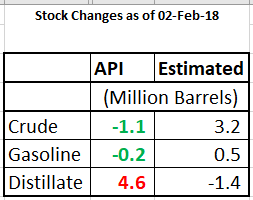 The API report surprised the market in more ways than one yesterday. While it showed a draw in crude stocks of 1.1 million barrels (expected build of 3.2 million barrels), it also showed a considerable build in distillate stocks of 4.6 million barrels (expected draw of 1.4 million barrels). 
The market, as usual, will look to the DOE for corroboration of these figures.
For now, the market has reacted positively to this data with Brent futures trading nearly 50 cents higher at the time of writing.
Naphtha
Asia's naphtha crack fell for the third straight session to hit a nearly 6-1/2 month low of $71.37 a tonne as a stubborn glut dragged on prices. Cash premiums for physical trade are currently in the $ 1.5 -2.0 /MT range, levels not seen since September last year.
The balance February paper naphtha crack is still weaker at -$ 1.20 /bbl today. 
Gasoline
The Asian gasoline crack to Brent continued to weaken, settling at $ 8.95 /bbl. yesterday.
The balance February paper 92 Ron gasoline crack has further weakened to $ 11.55 /bbl.
Hedging recommendation made earlier are being retained (until they are squared off). Current values are juxtaposed in (Red)
March 2018       $ 13.35 / bbl (12.15 ).
We will take this position off our radar now given that it has yielded in excess of $ 1.0 /bbl 
Distillates
Sustained bullish sentiment in Asia's jet fuel market and a slightly weaker gasoil market boosted the February regrade spread to its highest level in almost two years. A spike in seasonal demand for kerosene used in heating, especially from Japan and South Korea, has helped tighten jet fuel supplies and boost the overall market complex in the past two weeks.
The balance February paper gasoil crack is lower at $ 14.85 /bbl. The 10 ppm crack is at $ 15.50 /bbl.  The February regrade continues to post gains and is valued at $ 1.95 /bbl today!
Hedging recommendations made earlier are being retained (until they are squared off). Current values are juxtaposed in (Red)
February 2018      Gasoil 10 ppm $ 16.15/bbl (15.50) : Jet $ 15.50/bbl (16.75)
4Q 2018                 Gasoil 500 ppm $ 15.35 /bbl  (14.75): Gasoil 10 ppm $ 16.20 /bbl (15.75): Jet $ 16.00 /bbl (15.60). 
1Q 2019                   Gasoil 500 ppm $ 15.85 /bbl (15.19) : Gasoil 10 ppm $ 16.80 /bbl (16.05): Jet $ 16.55 /bbl (15.90)
We would also recommend hedging Cal 2019 (for aggressive hedgers) at 
Cal 2019                   Gasoil 500 ppm $ 16.10 /bbl (15.70): Gasoil 10 ppm $ 17.45 /bbl (16.65): Jet $ 16.85 /bbl (16.45)
Fuel Oil
Asia's front-month high-sulphur fuel oil crack narrowed its discount to Brent crude on Tuesday for second straight session as crude oil prices continued to fall. The March 180-cst fuel oil crack to Brent crude was trading at about minus $7 a barrel around the end of Asia trading hours, its narrowest discount since Jan. 3 and compared with minus $7.58 a barrel in the previous session.. 
The February 180 cst crack is however valued much higher at -$ 4.45 /bbl. This seems to be more because of falling crude prices. The visco spread is slightly wider at $ 0.85 / bbl.  
About this blog
This blog post attempts to give a top level summary of the Singapore market goings on to a person who seeks to obtain a directional sense of the market on a daily basis.
Disclaimer : All the views are the author's personal views. These do not constitute an advice to buy or sell any commodity