Crude Oil
Crude prices closed higher on Tuesday in anticipation of bullish API data. Brent closed 41 cents higher at $ 62.86 /bbl and WTI 15 cents higher at $ 57.62 /bbl
The push and pull between tightening supplies and increasing production will continue for a while, it would seem. However, the rising prices may also have another effect viz, putting a lid on demand.
Both Saudi and ADNOC have raised crude oil prices for their crude. Saudi has hiked crude prices Arab light for December by 40 cents per barrel which is the highest premium for this grade since September 2014. ADNOC has set the price of its Murban OSP for November at $63.65 /bbl, $ 2.83 /bbl above the Oman Dubai average. ADNOC prices are set retrospectively.
API Data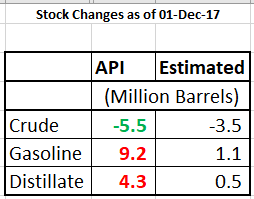 The API reported that crude stocks had fallen by 5.5 million barrels. While this was undoubtedly bullish, it was more than offset by the increase in stocks of gasoline (9.1 MB) and distillates ( 4.2 MB)
As can be seen from the chart alongside, these builds far exceed expectations. As we head into the winter, the lean season for crude demand in the US, these figures appear worrisome from the point of view of there simply not being enough demand to maintain crude prices at such high levels.
The huge product builds would seem to suggest that the draw in crude is more due to export of crude than demand for crude and products in the US. That is a distinctly bearish scenario.
Naphtha
The Naphtha physical crack continued to rise and settled $ 120.18 / MT.  Nevertheless, increased supplies are expected to keep the rise in crack levels in check
The December crack for now is slightly higher at $ 3.80 /bbl. 
Gasoline
Not much news on the gasoline markets. The stock rise reported by the API is expected to be confirmed by the DOE.
The December 92 Ron paper crack, continues to slip to $ 11.40 /bbl. 
Distillates
Demand for jet has been picking up as airline demand is seen growing. Global demand for air travel rose 7.2% in October. The load factor (an indication of how full planes are) has also increased to 80.8% from 80.0% over the previous month.
However, this does not appear to have done much for the regrade which has dropped to $ 0.55 /bbl for the month of December.  The December Gasoil crack though has risen t0 $13.00 /bbl. In our OPD of 9th November , we had recommended hedging the regrade at $ 1.60 / bbl!
Fuel Oil
Cash premiums for both grades of fuel oil fell to multi session lows today as trades appeared to be offloading inventory for the year end.
The crack for December has fallen to   – $ 3.55 for December. The visco spread has narrowed to $ 0.65 /bbl. In our OPD of 9th November , we had recommended hedging the crack at -$ 2.15 / bbl!
A

bout this blog
This blog post attempts to give a top level summary of the Singapore market goings on to a person who seeks to obtain a directional sense of the market on a daily basis.
Disclaimer : All the views are the author's personal views. These do not constitute an advice to buy or sell any commodity