Crude Oil
Crude prices plunged on Friday to finish at their lowest levels in weeks, as reports said OPEC and Russia are considering lifting production by as much as 1 million barrels a day as early as June to meet the shortfall in supply from Iran and Venezuela. Brent crude  futures fell $2.36 to settle at $76.46 /bbl. U.S. West Texas Intermediate (WTI) crude futures dropped $2.83 to settle at $67.88 /bbl.  
Brent lost 2.6% for the week, its first weekly slide in six. WTI lost much more i.e. 5.3% in its first weekly slide in over a month. The news of the lifting of cuts has had a follow through impact today as well with Brent trading another $1.5 /bbl lower around $ 75 /bbl. With both London and New York shut for today, Asia could well be driving markets for the day.
According to OPEC General Secretary, Mohammed Barkindo, US President, Donald Trump's tweet on the 20th of April (slamming high oil prices) prompted the Saudi Government to rethink oil prices. However, a report appearing in Bloomberg suggests that diplomats and oil officials in Opec countries were also worried about the potential revival in Washington of the so-called "No Oil Producing and Exporting Cartels Act," which proposes making Opec subject to the Sherman antitrust law, used more than a century ago to break up the oil empire of John Rockefeller.
While Bush, and later Obama refrained from using this 'NOPEC' Act against oil prices in the last 10 years, there was a risk that Trump may not go along the same line (possibly because OPEC IS actively squeezing the market this time around).
In more bearish news, the oil rig count in the US rose by 15 to 859, the highest number since March 2015.

28 May 2018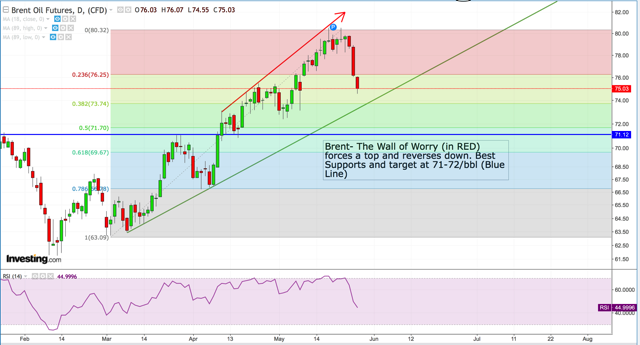 The Wall of Worry holds
Last week saw the first weekly fall after six gains. This fall was strong ending in an engulfing candle pattern on the weekly charts which is typically bearish. There were more bearish signals too such
The failure to breach the previous high albeit by just 2 cents.

Meeting of the long term targets for this rally. 
Trading Strategy
Last week we had stayed on the sidelines. For now we see movement in the following manner. 
$ 73 or $ 75 may be a level from which prices will start to pull back

However, we expect such pullbacks to be capped in the $ 77 – 78 range which would act as selling opportunities with a stop over the previous high of $ 80.50 bbl

The target for this move is around $ 70-71 /bbl.
Supports and Resistances
$ 76.20 and $ 75.40 could be long term supports for this move with a deeper support at $ 74.30 and $ 73.40
Resistances are at $ 78.80 and then $ 80.50
About the Analyst
Vignesh Eswar has been a Technical Analyst, Advisor, Trader, and Trainer with over 23 years experience in Indian markets.
Naphtha
Asia's naphtha crack stayed firm on tight supplies as reflected in prices being paid for cargoes. Traders said that the buying interest has been so strong that the uptick in gasoline demand has worsened the situation. 
The June crack is marginally higher at -$ 0.05 / bbl
Gasoline
Asia's gasoline crack  was as a 4 session low of $9.59 a barrel. This is however just 5 cents lower than Thursday and over 40% higher than a year ago.
Light distillate stocks in ARA fell by 8% to 998 KT, their lowest since January 4 this year. Stock levels in Asia are still fairly comfortable though they have receded from the record highs seen in March.

The June crack is steady at $ 11.60 / bbl.
Click Here for a graphical depiction of Global Gasoline stocks by region.
Distillates
Asia's gasoil markets were steady with little to no change in cash premiums, refining margins or time spreads. Shrinking global inventories remain a cause for concern. While refineries should be coming out of turn around now, the increased demand for the product is also strong.
ARA's onshore middle distillates stocks  dropped nearly 7 percent to 2.04 million tons in the week to May 24.
The June crack is higher at $ 15.55 / bbl with the 10 ppm crack quoting higher at $ 16.55 /bbl. The regrade has dropped to $ 0.45 /bbl
Click Here for a graphical depiction of Global Distillate stocks by region.
Fuel Oil
Fuel oil cracks were buoyed by dropping crude prices.  The June 380-cst fuel oil crack to Brent crude was trading at a discount of about $11.45 a barrel on Thursday.
ARA weekly onshore fuel oil stocks  fell by 100 KT (7%) to 1.30 million tonnes on Thursday. 
The June 180 cst crack is higher at -$ 3.95 / bbl. The visco spread has widened to $ 1.60/bbl. 
Click Here for a graphical depiction of Fuel Oil stocks by region.
Hedge Recommendations
It will take a few days for cracks, especially far away cracks to adjust to this sudden drop in crude prices. For now we continue to wait and watch.
Hedge recommendations are essentially made for refiners. These are not trading positions as such. The rationale of these positions is to lock in extraordinary levels for the refiner.
Click Here to see how all our recommendations have fared
About this blog
This blog post attempts to give a top level summary of the Singapore market goings on to a person who seeks to obtain a directional sense of the market on a daily basis.
Disclaimer : All the views are the author's personal views. These do not constitute an advice to buy or sell any commodity