Crude Oil prices continued to consolidate on Friday, with some shorts booking profits over the weekend. Brent settled 32 cents higher at $45.54 /bbl and WTI, 27 cents higher at $43.01 /bbl.
Oil prices have fallen for five weeks in a row now. During the first half of the year, they have fallen about 20%. This is the largest first half percentage fall since 1997 (source http://investing.com)
The fact that there is an abundance of supply is now evident to the most hardcore of the bulls. And if that weren't enough, the number of rigs drilling in the US has gone up for a 23rd straight week to 758, a rise of 11. The bulls are willing OPEC to do something (though we are not sure what they would want OPEC to do).  Another cut of 1.8 million barrels appears to be totally infeasible to us.
The other worrisome aspect continues to be the apparent lack of demand. Last week, the Colonial Pipeline reported a slack in utilization below 100% for the first time in 6 years.
Having said all this, crude has started this week on a bright note. At the time of writing, Brent is up 71 cents at $ 46.25 /bbl
Technical Analysis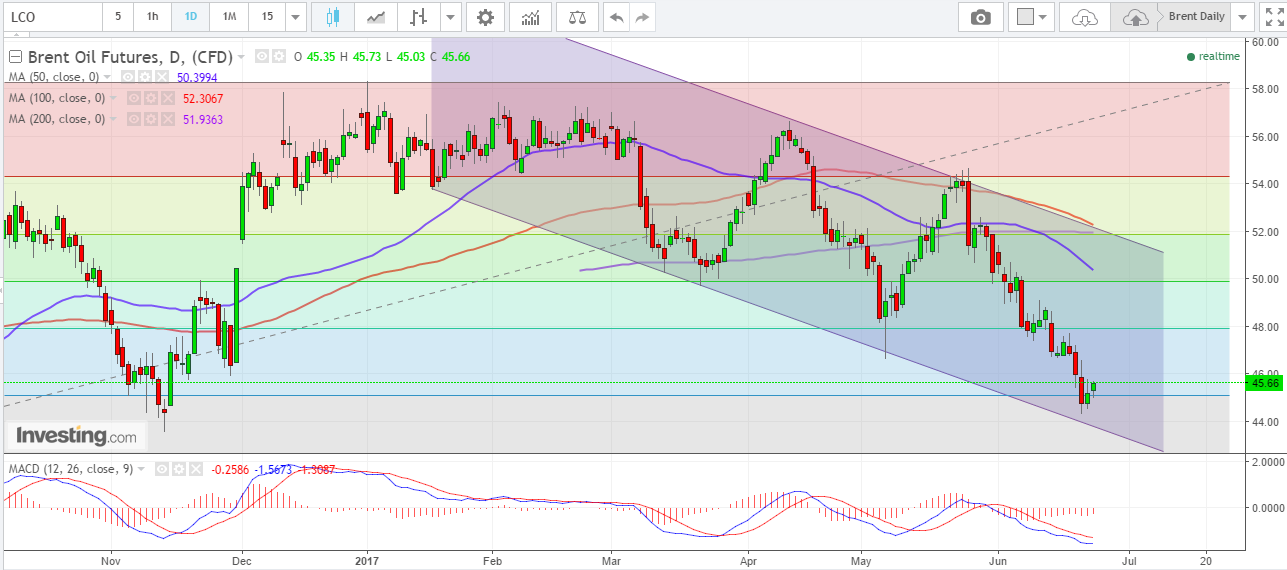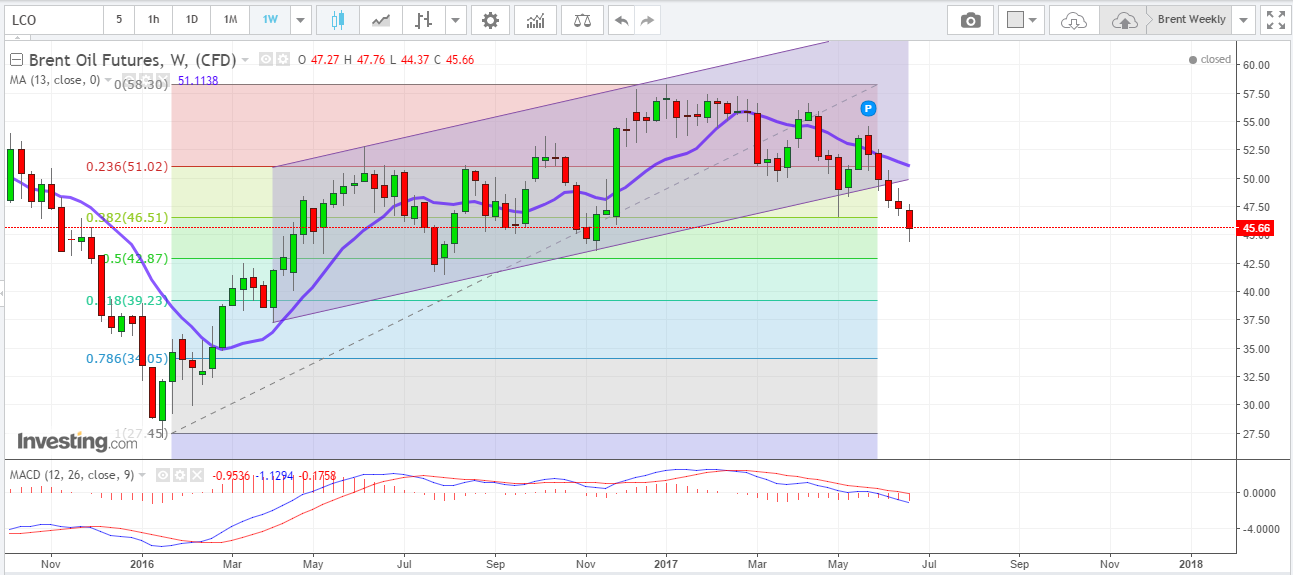 Prices seem to have bounced of the bottom of the down channel on Wednesday and found support there. Further, bullish divergences are beginning to appear on the daily charts. On the weekly charts, we have had five consecutive weeks of fall in prices and one has to wonder how long the streak will last. The last time we saw a streak of this sort was in 2015 when it was the OPEC itself bent on flooding the market.
For now, the immediate supports appear to be $ 45.10 and then $ 43.57 and $ 41.51. Resistances appear at $ 48.00 and then $ 50.00
Fuel Oil Special
The Singapore Fuel Oil market has been one of extremely hectic activity throughout the year this far. We have seen stocks at their highest levels for a given time of the year, followed by a time when stocks were at their lowest levels for that time of the year.
We have seen trading plays going on, we have heard of reports of 7-8 VLCCs holding stocks off the coast of Singapore. And most recently we have seen 180 cSt FO quote above Dubai in the forward markets. This market has been a bit of an enigma to most of us.
We managed to talk with a senior Fuel Oil trader about the admittedly puzzling goings on in the market. He has requested anonymity while speaking to us.
He was of the opinion that while Fuel Oil looks good from the point of view of crack spreads, it doesn't look particularly strong from the point of view of time spreads. Indeed, while the July crack spread has increased from roughly -$0.65 /bbl two weeks ago to +$ 0.40 / bbl at the opening of Friday, the July-August backwardation has only increased by 25 cents / ton, which is really negligible.
Three VLCCs are reportedly in on their way from the US.  With Venezuelan cargoes being unavailable, traders do not see value in low density material.
For now, the Singapore cash premiums are expected to hold.
About this blog
This blog post attempts to give a top level summary of the Singapore market goings on to a person who seeks to obtain a directional sense of the market on a daily basis.
Disclaimer : All the views are the author's personal views. These do not constitute an advice to buy or sell any commodity