Crude Oil fell sharply last Friday as news of increase in OPEC supplies this month hit the markets. Brent settled down $1.24 or 2.52 % at $48.06 /bbl whilst WTI settled down $1.15 or 2.45 percent, at $45.77 /bbl.
Petro-Logistics, one of the leading companies measuring sea-borne petroleum trade said on Friday that it anticipates OPEC crude production to rise 145,000 barrels per day this month. This increase in production will come mainly from Saudi Arabia, the United Arab Emirates and Nigeria.
We had mentioned in Friday's Oil Price Digest that Market participants seem to be convinced that the supply glut is here to stay and that the market is unlikely to rebalance anytime soon. With such sentiments prevailing in the markets, news of increased production and supplies will surely evoke violent price falls.
A reduction in the US oil rig count by 1 to 764 in the week to July 21 failed to provide any support. All eyes are now on the Meeting between OPEC and its allies slated to be held later today. We believe that unless some curbs are agreed to in this Meeting, prices will continue to fall.
In other news, Police in Rajasthan, India have apparently cracked a criminal syndicate accused of smuggling more than 50 million litres of crude oil inside water tankers from India's largest onshore oilfield run by a subsidiary of British mining giant Vedanta Resources. The theft at the Cairn India oilfield went undetected for nearly six years until police in Rajasthan arrested 25 people this week for involvement in the sophisticated smuggling network. According to some media reports,  as much as Rs. 49 crore (USD 7.60 million) worth of oil could have been stolen in total from the oilfield.
Technical Analysis
While Brent managed to stay supported by the 50 day Moving Average on Thursday, it not only fell below this on Friday but also continued to fall sharply through the ascending channel that was formed in the last 10 odd days.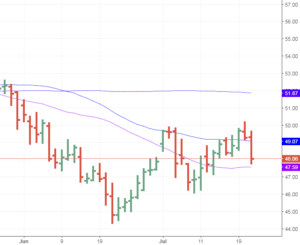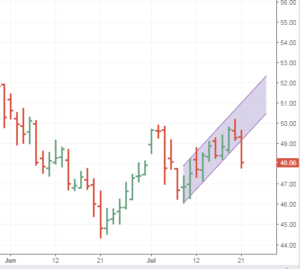 In the absence of any bullish news, the next levels of support appear to be $47.60 /bbl (30 day Moving Average), $47.00 /bbl (psychological support) and then around $46.70 /bbl (level which provided support last month).
On the upside, resistance levels are seen as $48.50 /bbl  (Pivot Point) followed by $49.05 (bottom of the ascending channel and the 50 day Moving Average).
Notwithstanding the bearish setup, there is some hope for the bulls if one looks at the Brent weekly charts where the price movements, (including Friday's fall) are still within the ascending channel.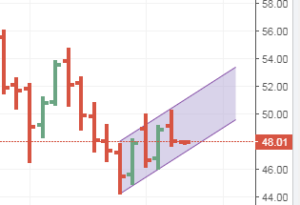 Naphtha
Recent strengthening of the gasoline markets has helped prop up naphtha as its demand for a blending component for gasoline has increased. Cargoes for first half September delivery are heard to be traded at lower discounts vis-a-vis cargoes for second half August delivery.
The August crack is now at $0.50/bbl.
Gasoline
Although demand remains strong, gasoline cracks have eased slightly as stocks held independently at the Amsterdam-Rotterdam-Antwerp (ARA) storage hub edged up 1.4 % to 808,000 tonnes in the week to July 20. However, the current level is 40 % lower than inventories a year ago.
The August crack has eased to $ 11.50 /bbl.
Distillates
Distillate cracks continue to stay supported on the back of falling inventories across US, Europe and Singapore. Gasoil stocks held in independent storage at the ARA hub declined by 2.9 % in the week to last July 20. Stocks stood at about 2.83 million tonnes, having fallen because of strong export demand from the hub to the Mediterranean and West Africa.
The August gasoil crack is unchanged at $ 13.10 /bbl. The regrade also stays at -$0.50 / bbl today.
Fuel Oil
Fuel Oil cracks have fallen as inventories have increased in all trading hubs. We had last reported about large inventory build-ups in the trading hubs of Singapore and Fujairah. In addition, Fuel oil inventories at the ARA hub have also increased by 262,000 tonnes to a total of 1.09 million tonnes in the week to last July 20. This amounts to a 32 % week-on-week jump in stocks, close to a near three-month high. The major reason for this increase was the absence of any exports to the Asia-Pacific from the region because of the East-West arbitrage being closed.
The 180 cst August crack is lower at -$0.65 /bbl. The visco spread is unchanged at $0.95 /bbl.
About this blog
This blog post attempts to give a top level summary of the Singapore market goings on to a person who seeks to obtain a directional sense of the market on a daily basis.
Disclaimer : All the views are the author's personal views. These do not constitute an advice to buy or sell any commodity