Crude Oil prices rose by close to 2 % to a six-week high on Wednesday after the EIA weekly report showed a reduction in inventories of Crude, Gasoline and Distillates. Brent settled up 86 cents, or 1.8 percent, at $49.70, while WTI settled up 72 cents, or 1.6 percent, at $47.12. This is now the highest close for both contracts since June 6 earlier this year.
DOE Data
U.S. commercial crude oil inventories (excluding those in the Strategic Petroleum Reserve) decreased by 4.7 million barrels from the previous week. The inventories of refined products also reduced with total Motor Gasoline inventories decreasing by 4.4 million barrels and Distillate fuel inventories decreasing by 2.1 million barrels last week.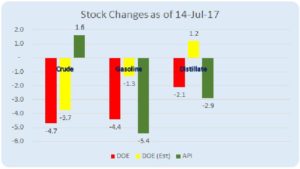 The drawdown in crude occurred even though U.S. production climbed to 9.43 million barrels per day, its highest since July 2015. While refinery utilization remained stable at around 94%, total products supplied over the last four-week period averaged about 20.8 million barrels per day which is 2.1% higher from the same period last year. Interestingly, this increase in demand has come from Distillates as opposed to Gasoline. The quantity of motor gasoline supplied over the last four weeks averaged about 9.7 million barrels per day which is 0.8% lower than the same period last year. On the other hand, distillate fuel product supplied over the last four weeks averaged over 4.1 million barrels per day which is a considerable 9.9% higher than the same period last year.
The above notwithstanding, both U.S. Crude oil and Gasoline inventories are in the upper half of the average range for this time of year while Distillate inventories are near the upper limit of the average range for this time of year.
Naphtha
Naphtha cracks have eased slightly but are expected to stay supported since the current weak spot prices will limit the number of cargoes moving from the West, including Europe and the Med, to Asia. The volumes placed on provisional booking for August arrival in Asia is estimated at about 1.3 million tonnes. 
The August crack is valued at $0.00/bbl today.
Gasoline
The sizeable drawdown in Gasoline inventories as reported by EIA yesterday has helped strengthen cracks. However, gasoline stored in tanker ships off the coast of West Africa continue to remain high. The amount of gasoline on ships outside the ports of Lagos and Lome climbed as high as 1.07 million tonnes in the week to July 7, before dropping back to 950,000 tonnes last week.
The August crack has improved to $ 11.30 /bbl.
Distillate cracks too managed to climb on the back of inventory drawdown in the US and firm demand for prompt cargoes. However, further upside is expected to be limited as some refineries return from maintenance and supply comes in from India and Europe.
The August gasoil crack is much stronger at $ 12.70 /bbl. Once again, the regrade has improved and is valued at          -$0.35 / bbl. today.
Fuel Oil
Fuel oil cracks continue to improve as traders expect the amount of fuel oil coming to Singapore from the West and the Middle East to be below-average in July. Total fuel oil flows into East Asia for July are estimated at just over 5 million tonnes.
The 180 cst August crack is now at -$0.60 /bbl. The visco spread is unchanged at $0.95 /bbl.
About this blog
This blog post attempts to give a top level summary of the Singapore market goings on to a person who seeks to obtain a directional sense of the market on a daily basis.
Disclaimer : All the views are the author's personal views. These do not constitute an advice to buy or sell any commodity