Crude Oil
Crude prices reacted positively to the release of rig count numbers by Baker Hughes to finish the week near the weekly highs. Brent settled up 15 cents at $55.62 /bbl while WTI settled unchanged at $49.89 a barrel. Baker Hughes showed that oil rig count in the US (an early indicator of future output) decreased by 7 to 749 last week, currently down by 20 from recent peak of 769.
In other news,  Venezuela on Friday published prices of its oil products in Chinese currency in what it claimed was an effort to free the country from the "tyranny of the dollar". However, the prices themselves appear to have been derived by multiplying dollar prices by the dollar/yuan exchange rate. We will have to wait and see if Venezuela persists with this practice of publishing prices in a yuan or reverts back to dollar denominated pricing.
The Atlantic hurricane season (already the most destructive since 2005) continues to threaten with two more Hurricane systems currently at sea – Jose and Maria. Hurricane Jose's northward move could bring heavy precipitation and storm surge in the Northeast states by midweek, while Maria is expected to move across the Caribbean sea on Tuesday.
Technical Analysis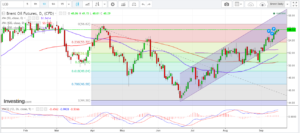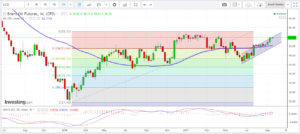 The charts show that the bullish trend is very much in place and continuing. In the daily chart, we can see the 50 DMA reaching towards to 200 DMA with some momentum. If these lines cross, it would be an extremely bullish signal. While we are looking at Brent, it is important to note that WTI prices closed above the 200 DMA last week, which is going to be bullish for crude prices in general.
In the weekly charts too, strong momentum is seen in. Last week, prices broke the rising channel on the upper end, but retraced to settle at the top of the channel. This could act as a possible resistance for the coming week.
Supports are seen at $ 54.76, $ 53.72, both retracement levels from an immediate and then a longer term move and then $ 52.51 (200 DMA). Resistances lie at $ 55.81, $ 56.62 and then $ 58.37 /bbl
Naphtha
Naphtha cracks have managed to rise slightly as fresh demand is helping mop up supplies. Among other buyers, South Korea's LG Chem was seen returning the market to buy naphtha for second-half October delivery.
The October crack  is valued higher at $ 2.45 /bbl
Gasoline
Gasoline cracks are valued higher today as the recent stock draws in the  U.S. in the wake of the two recent hurricanes keeps the traders interested.
October 92 Ron crack is valued higher at $ 12.35 /bbl.
Distillates
Distillate cracks continue to fall as traders look to move excess cargoes to the West. To that end. Unipec, the trading arm of China's Sinopec, is planning to move in the second of this month, a VLCC load of 10ppm sulphur diesel from its Tianjin refinery to Europe.
The October crack is valued lower at $14.10 /bbl.  The regrade has improved further to – $ 0.00 /bbl
Fuel Oil
Fuel Oil cracks are valued higher today even as inventories fall in key trading hubs of Amsterdam-Rotterdam-Antwerp (ARA) and Singapore. In the week to September 14,  fuel oil stocks in the ARA oil hub fell 15 %, to a three-week low of 1.27 million MT.
The 180 cst October crack is valued higher at -$1.70 / bbl. The visco is unchanged at $ 0.80 /bbl.
About this blog
This blog post attempts to give a top level summary of the Singapore market goings on to a person who seeks to obtain a directional sense of the market on a daily basis.
Disclaimer : All the views are the author's personal views. These do not constitute an advice to buy or sell any commodity