Crude Oil
Crude prices dipped further yesterday after the EIA weekly report confirmed builds in crude and gasoline. Brent settled 34 cents lower at $61.87 /bbl. WTI too lost 37 cents to close at $55.33 /bbl.
The market however seemed to take heart from the fact that the build reported by the DOE was much lower than that reported by API and settled around 37 cents higher from where prices were at the time of publication.
DOE Data
The DOE reported that crude stocks stocks had built by 1.9 million barrels. This was much lower than the 6.5 million build reported by the API. Gasoline built by 900 kb while distillates dropped by 800 kb.  All these figures were more bearish than expected as can be seen from the graphic below.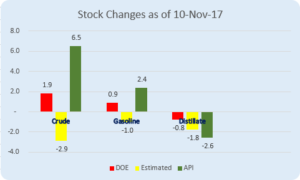 The build came inspite of refining rates having risen to 91% capacity utilization and exports having risen to 1.1 mb/d. Cr
Crude production continued to rise to a new high of 9.645 million bpd and there may not be anything stopping further growth going forward.
The implied demand for both gasoline and distillates is significantly lower week on week, but marginally so year on year for distillates.
In our section on material balance, it would appear that gasoline should have shown a draw and distillates should have shown a build with crude marginally drawn.

Naphtha
Naphtha cracks have eased further in the wake of market participants anticipating higher supplies from the West (including Europe and the Mediterranean), to arrive next month. Demand however continues to stay firm.
The December crack has eased to $ 3.85 /bbl.
Gasoline
Gasoline cracks have also slipped amid an active Platts Asian Trading Window yesterday which witnessed five gasoline cash deals.
The December 92 Ron paper crack is lower today at $ 11.20 /bbl.
Distillates
Distillate cracks have strengthened on the back of an aggressive buying spree by Oil Trader Winson Oil which bought a considerable 1.5 million bbls of 500ppm sulphur gasoil in the Platts Asian Trading Window. Winson Oil has and continues to be a major buyer of the fuel for most of 2017.
The December 0.05% Gasoil crack is valued higher at $12.90 /bbl. The regrade has however eased to $ 1.00 /bbl
Fuel Oil
Fuel cracks continue to slip as traders anticipate that total fuel oil flows into East Asia for November will be close to a nine-month high of around 7 million MT. Supplies have been boosted on account of recovering Western arrivals, near record-high inflows from the Middle East and 11-month high intra-Asia volumes.
The December 180 cst crack is lower at -2.25 /bbl. The visco spread is constant $ 0.70 /bbl.
About this blog
This blog post attempts to give a top level summary of the Singapore market goings on to a person who seeks to obtain a directional sense of the market on a daily basis.
Disclaimer : All the views are the author's personal views. These do not constitute an advice to buy or sell any commodity