Crude Oil
Crude oil prices rose on Wednesday after the International Energy Agency (IEA) said that a global surplus of crude was starting to shrink. Brent settled up 89 cents at $55.16 /bbl while WTI rose by $1.07 /bbl to settle at $49.30 /bbl.
Prices rose even though the DOE Weekly Report showed a big increase in U.S. crude oil inventories. Market participants largely disregarded this build as it was attributable to Hurricane Harvey.
DOE Data
U.S. commercial crude oil inventories (excluding those in the Strategic Petroleum Reserve) increased by 5.9 million bbls from the previous week. At 468.2 million barrels, U.S. crude oil inventories are still in the upper half of the average range for this time of year. On the other hand, total motor gasoline inventories decreased by a substantial 8.4 million bbls last week, but remain in the upper limit of the average range. Distillate fuel inventories decreased by 3.2 million barrels last week but are still in the middle of the average range for this time of year.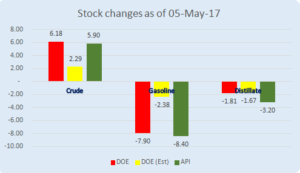 Refineries operated at 77.7% of their operable capacity last week, down from the 79.7% in the prior week. U.S. crude production on the other hand, rebounded to an average of 9.35 million bbls /day from 8.78 million bbls/day a week earlier. This expectedly caused the build in crude inventories which is likely to reduce once more refinery capacity comes back on-stream.
Total products supplied over the last four-week period averaged over 20.4 million bbls/day, down by 0.8% from the same period last year. Over the last four weeks, motor gasoline product supplied averaged about 9.6 million bbls/day, up by 0.2% from the same period last year. Distillate fuel product supplied averaged over 4.0 million bbls/day over the last four weeks, up by a significant 10.4% from the same period last year.
Naphtha
Although the naphtha cracks have weakened today, primarily due to strong crude prices, demand remains robust as buyers are mostly relying on naphtha due to the high prices of LPG which is the alternative feedstock.
The October crack  is valued lower at $ 2.50 /bbl
Gasoline
Gasoline cracks continue to fall as supplies are slowly getting restored in the U.S. With the spike in demand caused by the devastation of Hurricane Harvey waning, gasoline cracks are losing their momentum.
October 92 Ron crack is valued lower at $ 11.70 /bbl.
Distillates
Distillate cracks too have eased even as Winson oil resumed its buying in the Asian Platts window. Winson Oil purchased 450,000 bbls of gasoil yesterday, bringing its total tally to over 9 million bbls since the beginning of September. It is learnt that, three to four long-range tankers have been chartered by Winson Oil to store gasoil for a period of two to three months in Asia.
The October crack is valued lower at $14.25 /bbl.  The regrade has improved to – $ 0.20 /bbl
Fuel Oil
Fuel Oil cracks have managed to strengthen on the back of strong demand for bunker fuel in important trading hubs of Singapore and Fujairah.
The 180 cst October crack is valued lower at -$1.50 / bbl for September. The visco is valued unchanged at $ 0.70 /bbl.
About this blog
This blog post attempts to give a top level summary of the Singapore market goings on to a person who seeks to obtain a directional sense of the market on a daily basis.
Disclaimer : All the views are the author's personal views. These do not constitute an advice to buy or sell any commodity