Crude Oil prices ended slightly higher on the higher side as fears of global oversupply battled tensions in North Korea. Brent closed 20 cents lower at $52.10 /bbl, whereas WTI settled 23 cents lower at $48.82 /bbl.
Although prices gained marginally on the day, the week has closed on a negative note with with Brent losing 32 cents and WTI losing 76 cents on the week.
The IEA report that OPEC compliance had fallen to 75% (as against 85% reported by OPEC) lent support to the bears. The Baker Hughes rig count too increased by 3 rigs to 768 last week. The timing is arguably fortuitous, but this may well lead credence to the theory that rigs (and production) will build at higher prices.
Technical Analysis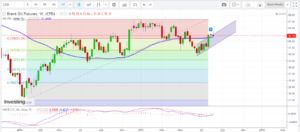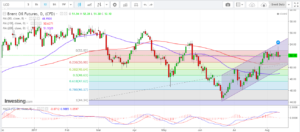 This weeks charts present a confused picture which traders would regard with caution.
The daily chart shows a range of candles trading in a tight range. However, the MACD oscillator has crossed over into negative territory suggesting that the bullish story is peaking out.
The weekly chart shows that prices have fallen back into the ascending channel after threatening to break out at the end of last week. Having said that, the MACD continues to increase notwithstanding the negative close this week.
Both candles are resting on strategic supports viz. the 200 DMA on the dailies and the 50 WMA on the weeklies overall suggesting that the market is still bullish.
Supports like at $ 51.93 (200 DMA), $ 51.46 (50 WMA) and then $ 50.64 (100 DMA).
Resistances lie at $ 52.93, $ 53.64 (the previous daily highs) and then $ 54.67, a past weekly high.
Naphtha
The physical Naphtha market showed strong demand with many buyers rapidly picking cargoes on offer.  While most deals were reported at a discount, there are talks of deals being done at a small premium for September as well.
The August crack is at $1.10/bbl today with September being valued at $ 1.0 /bbl
Gasoline
Gasoline cracks have also grown strong on firm demand. The August crack is stronger at $ 13.5 /bbl. September is however significantly lower at $ 12.05 / bbl.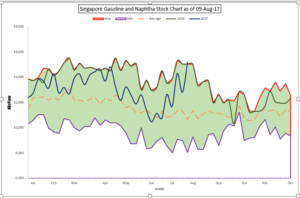 While ARA stocks fell as per Thursday's report, we also see Singapore stocks near all time highs and certainly at their highest for this time of the year.
It may be desirable to hedge gasoline cracks for September from here on.
Distillates
The Distillate cracks continue to strengthen supported by demand from Vietnam and refinery outages in South Korea.  The flat price has flipped into backwardation.
Both, the August as well as the September Gasoil cracks are valued at $ 13.35 /bbl. Regrade is at -$0.25 /bbl for August and -$ 0.50 for September
Fuel Oil
Fuel Oil cracks continue to weaken. While stocks in ARA dropped by close to 200 KT, most of the material is expected to be moving to Asia.
The 180 cst crack is at -$2.10 / bbl for August and -$ 2.00 for September. The visco spread is at $ 0.45 /bbl for August and $ 0.75 / bbl for September.
About this blog
This blog post attempts to give a top level summary of the Singapore market goings on to a person who seeks to obtain a directional sense of the market on a daily basis.
Disclaimer : All the views are the author's personal views. These do not constitute an advice to buy or sell any commodity