Crude Oil
Bearish projections from the IEA overcame what seemed bullish US inventory data as Brent settled 69 cents lower at $56.25 /bbl. WTI too lost 70 cents to settle at $ 50.60 /bbl.
While the DOE did report a larger than expected draw in crude (after the API reported a build), this was overshadowed by an IEA report which lowered its forecast for oil demand in 2018 to 325 kb/d from 540 kb/d this year.
DOE Data
The DOE reported a draw of 2.7 million barrels, much larger than an expected draw of 800 kb. Gasoline built by a surprising 2.5 million barrels while distillates drew by 1.5 million barrels.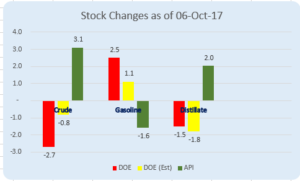 US Oil production dropped by 800 kb/d in the previous week due to production being shut down on account of tropical storm Nate. However imports were up by 400 kb/d and refinery runs were up by 180 kb/d. Gasoline demand was up too up to 9.48 mb/d.
Naphtha
The Physical naphtha crack settle yesterday was reported at an 8 month high of $ 104.08 / MT. The demand is being exacerbated by the unavailability of LPG feedstock.
However, the paper crack retreated to $ 2.90 /bbl for October and $ 2.80 /bbl for November
Gasoline
High inventories in key trading hubs has caused the gasoline cracks to retreat further. Singapore's light distillates stocks, which comprise mostly gasoline and blendstock for the fuel are at a six-week high of 12 million bbls  for the week to October 11.
The October 92 Ron crack is valued lower at $ 11.20 /bbl while the November cracks is at $ 10.55 /bbl
Distillates
Distillate cracks continue to slide even as Singapore's onshore gasoil and jet fuel stocks slipped by more than 1 % to a two-week low of 10.529 million bbls in the week to October 11. The market appears to be well supplied with not too many buyers being seen presently. Even the Singapore Trading Window was muted with only one ATF cash deal and no gasoil cash trades being done.
The October crack is lower today at $12.80 /bbl while the November crack is valued at $ 12.90 /bbl.  The regrade is valued at -$ 0.40 /bbl for October and $ 0.22 /bbl for November.
Fuel Oil
While the phsycial fuel oil market remains lackluster, the paper cracks have improved marginally even though fuel oil inventories in East Asia remain high. Singapore's onshore fuel oil inventories rose to a total of 3.54 million MT in the week to October 11, up 5.3 % from the previous week.
The October 180 cst crack is valued higher at -$2.25 / bbl while the November crack is valued at -$ 2.10 /bbl.  The visco spread is valued at $ 0.60 /bbl for October and at $ 0.80 /bbl for November.
About this blog
This blog post attempts to give a top level summary of the Singapore market goings on to a person who seeks to obtain a directional sense of the market on a daily basis.
Disclaimer : All the views are the author's personal views. These do not constitute an advice to buy or sell any commodity