Crude Oil prices closed higher yesterday after apparently bullish data released by the DOE. Brent closed 56 cents higher $52.70 /bbl, whereas WTI settled 39 cents higher $49.56 /bbl.
We use the term apparently bullish DOE data because, the release of the data, while seemingly bullish, did nothing to spark up the markets, which only rose in the last hour of trading.  Markets, in our opinion, continue to remain uncertain and, in our opinion, either at, or fairly close to a peak for now.
DOE data
The data report from the Department of Energy was directionally in synch. with the figures reported by API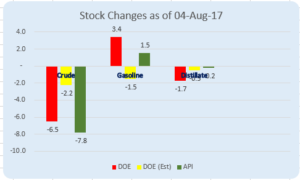 While the crude draw was fairly huge at 6.5 million barrels, it was offset by a build in gasoline of 3.4 million barrels. There was a small draw of 1.7 million barrels in distillates.  Refinery runs were at a record high of 96.3%
Another bullish factor being mentioned is the stabilized production of crude in the US (7 kbd lower week on week).
Having said the above, we see a lot of factors suggesting that the situation may not be as bullish as being made out to be.
We start with the build in the gasoline of roughly 500 kbd. This would seem to suggest that the driving season is near to an end. Should refinery runs stay constant, gasoline stocks will build at an alarming rate. Should refinery runs drop, we should see crude stocks building. We are, for the first time in many weeks, seeing a build at Cushing. Should crude production in the US rise, we shall see crude stocks building. The chances that this will happen at prices above $ 50 /bbl is very high.
Gasoline demand (4 week average) has stayed fairly constant at 9.76 kbpd suggesting that this has peaked out.
Distillate demand seems to be the sole factor for hope. Having said that, we would need a strong winter for this to really impact prices because stocks continue to be at high levels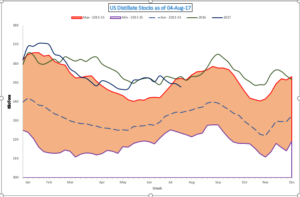 Naphtha
Naphtha market has stayed supported as demand remains firm. While South Korea's YNCC was heard to have bought up to 100,000 mt of naphtha for second-half September arrival at Yeosu, Chinese Unipec was now in the market looking to buy spot naphtha for September.
The August crack is marginally lower at $0.80/bbl today.
Gasoline
Gasoline cracks have weakened on the back of considerable rise in inventories in the U.S. as reported by the DOE yesterday
The August crack is lower at $ 12.85 /bbl.
Distillates
The distillate cracks have strengthened as strong demand comes in from the Middle East. Aramco Trading Company is seeking 1.4 million barrels of 500 ppm sulphur gasoil for delivery over August to September, likely to meet a spike in domestic demand during the summer or due to a supply shortfall. In addition, Emirates General Petroleum Corp (Emarat) is seeking 55,000 mt of jet fuel for delivery in September.
The August gasoil crack is stronger at $ 13.10 /bbl. The regrade is down at -$0.40 / bbl.
Fuel Oil
The Fuel Oil paper market in Singapore witnessed four deals totaling 80,000 mt, the highest volume since August 3 earlier this month. High inventories and adequate supplies are keeping a cap on physical prices.
The 180 cst August crack is slightly lower at -$2.00 / bbl. The visco spread is unchanged at $0.50 /bbl.
About this blog
This blog post attempts to give a top level summary of the Singapore market goings on to a person who seeks to obtain a directional sense of the market on a daily basis.
Disclaimer : All the views are the author's personal views. These do not constitute an advice to buy or sell any commodity